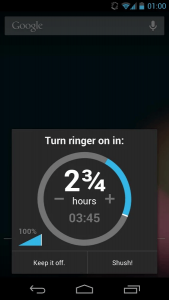 There are a lot of instances wherein a simple volume control app could come in handy. Like, for example, when you are watching a movie or when you are in the middle of doing a class presentation. You can also use it while you are asleep so that you won't be repeatedly bothered by those annoying messages and calls. So instead of manually setting your device volume to silent or normal mode (and vice versa), you can just opt to use a simple yet reliable automatic volume control app like Shush! for Android.
What Is It and What Does It Do
Main Functionality
Shush! is a simple volume control app that is meant to automatically set your device volume back to its normal "sound on" setting right after a specific time or duration. You can easily activate this app by turning off your ringer volume or when you switch your device's sound profile to silent mode. With the help of this app, you will never have to worry about manually switching your phone or tablet's sound back to its previous settings. In other words, it's like a timer that is specifically intended for volume control.
Pros
Simple, neat and user-friendly UI
Automatically restores your ringer volume on right after a specified time or duration (ex. turn ringer on in 25 minutes or 1 hour)
Customizable options – you can set your preferred timer color to blue, red, orange, purple, green, etc. You can also opt to enable or disable the app's notification
Non-obtrusive, responsive and very stable
Cons
You cannot set your own time – the app has predefined time settings so you cannot set a time duration that is shorter than 15 minutes or longer than 12 hours
You cannot set specific parameters such as keeping your email notification sound off even if you have already switched on the volume of your tablet or smartphone
Discussion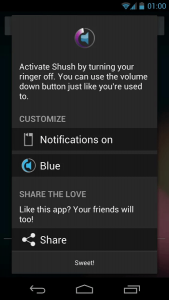 The way Shush! works is quite simple. As I've already mentioned, it is a simple volume control app that is designed to automatically revert your device's ringer volume back to its normal "sound on" settings right after a specified time or duration. Say, for example, you're in the middle of a business meeting so you decided to switch your device sound to silent mode. With Shush!, you don't need to manually switch your volume sound back on. You can just set it to automatically switch on your phone's volume right after you're done with your meeting. So it works like a timer but only for switching your device volume back on.
It is also important to note that this app will be automatically enabled as soon as you switch off your phone or tablet's ringer volume. So as soon as your switch ringer off, the app's timer will immediately appear on your screen and it will eventually prompt you to set the time that you want to turn your ringer on. Just keep in mind that the app will not let you set a time interval that is shorter than 15 minutes and longer than 12 hours. You cannot also specify a specific time like 45 minutes and 30 seconds. The time provided by the app is fixed so all you need to do is to adjust the green bar in the dial. You can also select your preferred volume level by pressing the timer's adjust volume level button.
All in all, Shush! provides a simple and direct approach to controlling your device volume. It does what it is intended to do plus its stable enough for you to use on a daily basis. You can also customize it according to your own liking.
Nonetheless, this app may not be suitable to those who do not wish to apply the volume changes to all of their applications. This is usually the case if you have an app that you want to keep on silent mode even if you have already switched your device volume back on.
Conclusion and Download Link
If you are looking for a quick and easy way to automatically restore your ringer volume right after you set your device to silent mode, I strongly suggest that you try Shush! for Android. It is a simple and straightforward app that does what it intended to do. It may have some downsides but it's definitely suitable for users who do not want to miss an important call.
Price: Free
Version reviewed: 12.3
Requires: Android 2.0 and up
Download size: 159KB
Related Posts