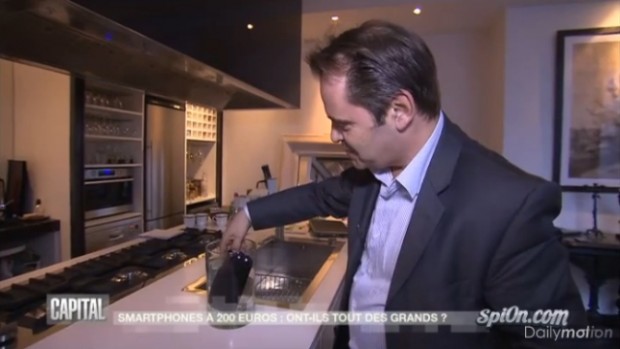 Being able to pull off a successful product demo, that too at a high-profile expo like the Mobile World Congress, is no mean feat. Archos CEO, Loic Poirier learned that the hard way during the demo of the new 5-inch Quechua Smartphone which is being marketed as the first mountain-proof phone.
Poirier was demonstrating the new device which has been designed in collaboration with Quechua – a leading outdoor gear maker from France. The 5-inch Android smartphone is described as the first mountain proof phone which has been designed to withstand impact from drops and also comes with an IP54 rating.
For those who are familiar with IP or Ingress Protection Rating, IP54 is the rating for protection against splattering of water from all angles, and hence the water-resistant tag. However, water-resistant in this case means splash-proof and not submerge-proof, which Poirier found out eventually during the course of the demo. The rating for ability to be submerged in water for a short period of time without damage is IP67, which is applicable to devices like the newly announced Samsung Galaxy S5, or last years Galaxy S4 Active and the Xperia Z1.
On to the actual demo. Poirier tries to demonstrate two key things. First, that the Quechua phone can withstand a drop onto a hard surface, and secondly, the water-resistance feature. He lets the phone drop on to the floor from about 4 feet, and we can actually hear a decent thud as it hits the floor. he proceeds to pick it up and demonstrate that it is working fine, without any damage. Impressive!
Poirier then goes on to demo the USP feature of the Quechua phone, the water-resistance capability. He dunks the phone into an empty glass jug, and then fills up the jug with water, completely submerging the phone. After leaving the phone submerged for a few seconds, he proudly tries to pull it out and demonstrate that it is still working. And that's where the situation goes out of hand. The phone appears completely dead, and no amount of pressing buttons seems to revive it. R.I.P Quechua phone!
It seems hilarious, that the top boss of a company would demo a product without first getting familiar with the product description and features. Check out the actual demo video below, on how NOT to demo an IP54 rated device. :-)
Related Posts