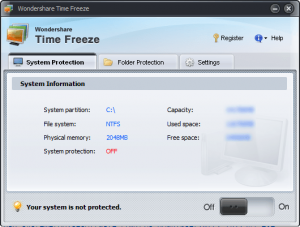 Update: Wondershare Time Freeze 1.0.0 is now a permanent freebie (it has been renamed to Wondershare Time Freeze Free and appears to be registered freeware). Wondershare Time Freeze 2.0.0 costs $39.

By now, I am sure all dotTechies have heard of Returnil Virtual System. Wondershare Time Freeze is a program very similar to Returnil Virtual System. In other words, Wondershare Time Freeze, like Returnil Virtual System, creates a "virtual layer" on top of your computer files and allows you to get rid of all changes made to your computer after a reboot (you also have the option to keep all changes). Here are the full features of Wondershare Time Freeze as per the developer: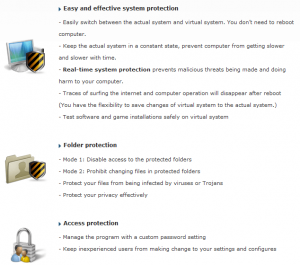 Now Wondershare Time Freeze is a fairly new product – meaning it has not passed the test of time – so to say it is "better" than Returnil Virtual System (especially considering RVS has a free edition for home users) would be a bit of a stretch. However, it is another alternative people can look for if RVS does not work for them.
To promote their new product, Wondershare is running a promotion where everyone can get Wondershare Time Freeze for free! Do note, however, there are not many details on if this free promotion is time limited (i.e. I don't know if the the license will expire after X amount of months or not), or if free updates are included.
To get Wondershare Time Freeze for free, follow these simple directions:
Supported OS: Windows 2000/XP/Vista/Win 7 32-bit editions only.

Version being given out for free: v1.0.0

Free updates: Unknown
Take note that you do not have to check "Keep informed of latest product updates and special offers." You will still get your registration information if you uncheck this.

If you registered properly, you will get a confirmation message like so:
Check the inbox of the e-mail address you entered. There should be an e-mail from "wondershare (register.data@wondershare.com) " with the subject of "Wondershare Time Freeze 1.0.0 Registration Mail?". In the e-mail you will find your registration information:

Keep this registration information safe – you will need it soon to register Wondershare Time Freeze after you install it.
Download and install Wondershare Time Freeze (2.1 MB download). After installation you will be asked to restart your computer. You need not restart your computer at this very moment (you can register it without restarting) but be sure to restart your computer before you actually start using the product to avoid any problems.
Run Wondershare Time Freeze and register it: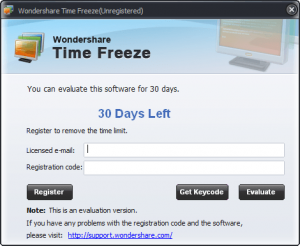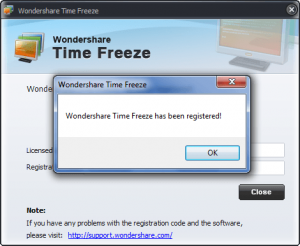 If you have any trouble getting Wondershare Time Freeze for free, post below and I will try to help.
Thanks Joji!
Related Posts