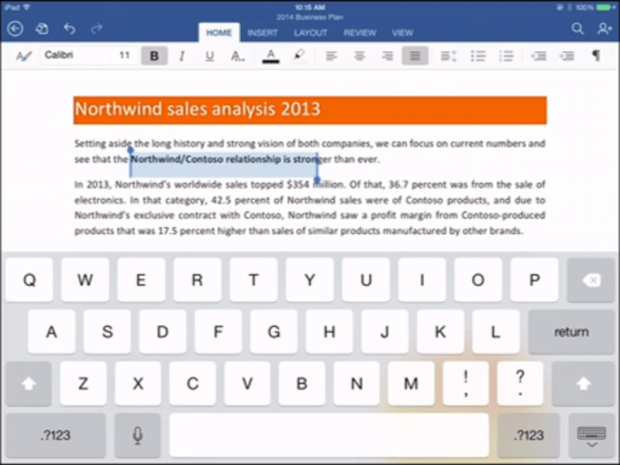 The rumors of Microsoft releasing a version of Office for the iPad has been circling the Internet for years. At first, rumors claim it would come in 2012, and when that didn't happen, rumors then claim 2013. Well, it is here now, and looking to be the best Office app on the iPad, though bear in mind that Office for iPad is not a completely free experience.
Strangely enough, Microsoft chose to announce Office for iPad today, rather than at its Build Developer Conference that is slated for next week. Whatever the reasons are, it does not matter, because Office for iPad is here, and it looks pretty slick.
According to Microsoft, Apple for iPad is a free to download and free for doing anything if it is not on the lines of editing or creating a document. To perform such actions, users will be required to have an Office 365 subscription, which costs around $6.99 per month, or $69.99 per year for the Personal plan. This plan also gives users 20GB of free OneDrive storage, and 60 free Skype minutes every month.
When users download Office for iPad, they will notice that the suite consists of Word, PowerPoint, and Excel. The app not surprisingly has a strong integration with OneDrive, Microsoft's cloud based storage service.
In comparison to the smartphone versions of Office now available for Windows Phone, Android, and iPhone, Office for iPad is similar in many ways to Office for the desktop. The ability to re-flow via a touch screen seems quite decent, and formatting is spot on, so there shouldn't be a problem when transferring files to the desktop to open in the full version of Office.
If you're waiting for Microsoft to release an Android version soon after, you may have to wait a while. Furthermore, Microsoft said the Windows 8 version of the new Office app will be available before the end of the year.
[image via Microsoft]
Related Posts