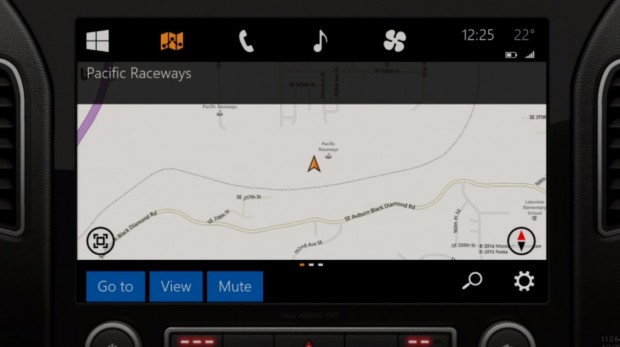 Microsoft is bringing Windows to the car, but this isn't the first time. A number of companies like Ford, BMW and Nissan have used a version of Windows to power their car dashboard displays for years now. But at Microsoft's Build developer conference, Director of the Internet of Things division Steve Teixeira revealed a new vision for Windows to the car.
The older approach isn't going anywhere, but Microsoft is taking now taking a similar approach to Apple's CarPlay. The idea is that Windows devices, presumably Windows Phones, will be able to interact with the display and mirror different kinds of content and information onto it. The devices will connect via Mirrorlink, which is steadily gaining support from car manufacturers and third party car accessory makers. Teixeira showed off a concept interface that featured Microsoft's now standard Modern interface, complete with pins and tiles. There was also a marketplace with third party apps Pandora, Spotify and Audible.
But while Apple has already announced concrete plans on when and where we'll see CarPlay in the market, Microsoft's offering is very much in the concept stage. They didn't give a date or an estimate for Windows in the car. What we do know, however, is that after the living room, it's becoming increasingly clear that your car is the next place the tech giants are going to battle for.
[via Channel 9 (MSDN), BGR]
Related Posts