AnyBizSoft has recently been running a "freebie promotion" of their PDF to Word Converter (v2.5.3)  software. Now, AnyBizSoft has decided to make PDF to Word Converter v2.5.3 freeware with users having the option of purchasing v3.0.0 (v3.0.0 makes improvements to PDF to Word Converter such as removing the dependency on Microsoft Word, and converting tables better). To learn more about AnyBizSoft PDF to Word Converter v2.5.3, feel free to read the full review I wrote on it back in January. To get AnyBizSoft PDF to Word Converter v2.5.3 for free, download the software and request a registration key.
That said, I would also like to take this opportunity to inform everyone about large discounts available on AnyBizSoft PDF converter products, such as AnyBizSoft PDF Converter (which can do PDF -> Word/Excel/PowerPoint/HTML/Text):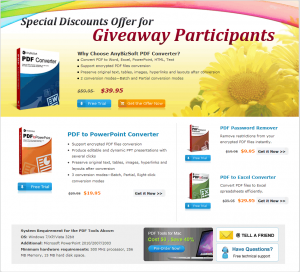 To take advantage of these discounts, visit the special discounts promotion page.
Now, I know many of you must be thinking "…for Giveaway Participants" – what "giveaway"? Let's just say you should keep your eyes peeled for a AnyBizSoft-dotTech giveaway in the near future.
Related Posts