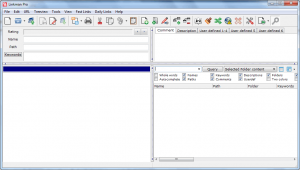 Linkman Pro was one of the first software I reviewed way back when dotTech was first launched; yet, to this day I remember it because of how much I was impressed by it. So, with great pleasure I would like to announce a dotTech-Outer Technologies giveaway of 30 free licenses of Linkman Pro!
For those that don't know, Linkman Pro – which also has a Linkman Lite version which is freeware – is a professional, feature filled bookmarks/favorites management tool. In other words, it helps you easily manage your bookmarks/favorites if you use multiple browsers, multiple computers, or would like to be able to create back ups for safe keeping. Here is an overview of the features that Linkman Pro has, as per the developer:
Compatibility with all major Windows browsers

Firefox 1.x-3.x, Internet Explorer 3.x-8.x, Google Chrome 2.x-5.x, K-Meleon 1.x, Maxthon, SeaMonkey 1.x, Opera 4.x-9.x, Avant Browser, Neoplanet, Netcaptor, SlimBrowser

Use the same link collection across different browsers (automated synchronization between Firefox, IE and other browsers)
Synchronization support to share links between multiple computers
Supports keywords, ratings, comments, descriptions, shortnames and user defined data
Ability to handle large databases (even millions of links) without performance or stability issues
Optional installation on removable drives like USB sticks
Internet Explorer integration
Firefox 3 integration
Optional Desktop Toolbar (supports all browsers including Chrome and Opera) for fastest browsing ever
Optional Internet Explorer Toolbar
Highly customizable user interface
Tray Icon
Detects duplicate links, even if they differ in subdomains, ports or login data
Query for URLs on the same domain or subdomain and display results in groups
User defined rating system
Synchronization
Extensive help file and PDF Tutorial
Ability to check URLs for dead links, intelligent (only major) content changes, and page movements
Retrieves keywords, descriptions and custom metatags from web pages
Password protection
Multiple import and export formats

Direct Internet Explorer Favorites support (including correct item order)
Firefox Bookmarks
Google Chrome
Powermarks
SeaMonkey
Opera Hotlist
Html
Separated Value files
Any data file containing links
Editable Export Templates (XML, TSV…) with UTF8 support

Fully customizable Html Link webpage generation
Search and Replace
Text and Status Query
Link Collector
Printing support
Sort feature with multiple sort orders and autosort
Drop Basket for faster browsing and URL addition
URL Path associated launch
URL Launch History
Fast Links for fast access to your favorite URLs
Daily Links feature to launch several bookmarks with one click
Full Drag and Drop support including link drops from browser to Linkman
Advanced Tray Icon (configurable click actions)
User defined browser support
Auto save
System-wide hotkeys for easy use, even when working with another application
If you want to learn more about Linkman Pro, you are welcome to read my review, or watch the tutorial video. Do take note, however, that both the review and the tutorial video are of old version of Linkman Pro – the latest versions have made many improvements. (A full changelog of improvements made to Linkman Pro with each new release can be found the bottom of this page.)
That all being said, 30 lucky dotTechies will have the chance to own a copy of Linkman Pro for free! All winners will receive free updates. Here are the rules for this promotion:
Version being given out for free: 7.9.0.30

Free updates: Yes

Supported OS: Windows 2000/XP/Vista/Win7


Download size: 7.7 MB
If you want a chance to win a license of Linkman Pro, you must post a comment below answering all of these questions:
Have you ever used a bookmarks/favorites manager or synced bookmarks/favorites across multiple browsers or computers? If yes, please name the software/service you have used.
What will be the main task you will use Linkman Pro for (sync bookmarks across browsers, sync bookmarks across computers, backup bookmarks, etc.)?
Is there anything Outer Technologies can improve in Linkman Pro (bug fixes, more features, etc.)? If yes, please specify.
Do you think $25 (for a single license) is a fair price for Linkman Pro? If no, please specify the price you think is fair.

Anyone that does not answer all four of these questions will be disqualified.
10 licenses are reserved for dotTech donors, authors, and artists. If you fall in this 10 license reserve category, please specifically state so in your comment (i.e. say "I am a donor" if you are a donor, etc.), otherwise I may not know. Also if you are a donor, please be sure to use the e-mail you donated with in your comment (do not post your e-mail in public, just use the e-mail in the "e-mail" form when posting a comment) so I can confirm.
The other 20 licenses can be won by anyone.
I reserve the right to award specific people licenses if I feel they have helped foster the dotTech community by being very active (the people who fall into this category is at my sole discretion).
You may only enter the drawing once and may only win one license. If you try to enter more than once, you will be disqualified.
When posting a comment, please make sure you enter an e-mail that is 100% valid and an e-mail you will check because the licenses will be distributed via e-mail by me. If you win and don't have a valid e-mail or an e-mail you don't check, your license will go to waste. However, please don't post your e-mail in your comment! You should never post your e-mail on a public form. Just enter the e-mail you want to be contacted at in the "E-mail" field when writing your comment – I will be able to get your e-mail from there. Or if you are a registered dotTechie  just post a comment while you are logged in and I will be able to find your e-mail.
The winners of this giveaway will be announced after the giveaway has ended in 72 hours, or on Tuesday April 20, 2010.
Good luck to everyone!
Anyone that misses out can always purchase Linkman Pro (scroll down to the bottom of the page to find Linkman Pro) for $25 (USD).

Related Posts