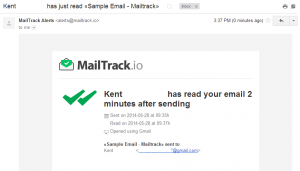 Just like other email services, Gmail doesn't have the capability to notify you about the status of your sent email items. In other words, you won't be able to know if your recipients have already read the emails that you've sent. Well, there's no need for you to fret because you can always rely on MailTrack to find out whether your emails were read.
What is it and what does it do
Main Functionality
MailTrack is a Gmail add-on for Chrome that you can use to know whether the emails that you've sent were successfully delivered to and read by your recipients. It's sort of like the read receipts that you usually get on messaging apps (ex. Whatsapp, Line) but what makes MailTrack different is that it is purposely intended for Gmail. To get this add-on, just download and install it on your Chrome web browser and after that, simply log-in or reload your Gmail email account to get started.
Pros
Free to use
User-friendly, practical
Automatically integrates to your Gmail account/s
Non-obtrusive – no annoying buttons and pop-ups
You get notified every time your emails were read – via email and via status icon; you will also get notified whenever someone clicks the links that you've included on your emails
You can access all of your read receipts in your private dashboard
Cons
None that I can think of but it would be nice if this add-on could let its users opt out from the email notifications
Discussion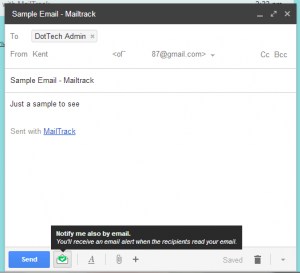 It's quite good to know that something like MailTrack exists just so users could have an option to know whether the emails that they've sent were successfully read or not. Apparently, this is a feature that should be integrated in most of today's email services but unfortunately, it isn't. So, here we have a third-party add-on for Gmail that you can use on Chrome.
The way how MailTrack works is quite simple. Just like the read receipts that you get on your messaging app, this Gmail add-on tracks the emails that you've sent. It will then notify you as soon as your recipient gets to read your email.
With MailTrack, you have two ways to know if your emails were read or not. The first method is via email delivery receipts while the second method is via status icon. In the first method, the add-on will send you an email notice as soon as your recipient gets to read and click the links inside your email. As for the second method, you can simply monitor your sent email items by looking at the "double-check" status icon. This icon will be shown right beside the name of your contact. However, don't forget that in order for this add-on to work, you'll need to click the small MailTrack icon first. It's  located right beside the "Send" button. Anyways, if you don't want to track your emails, you can always leave the icon unchecked.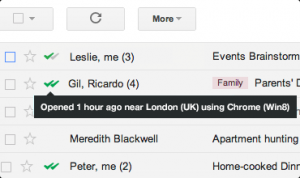 For emails that were successfully sent, the icon will show one green check mark. Now, if your contact reads your email, the icon will show two green check marks. That's not all. If you place your mouse pointer over the icon, you'll also get a more detailed info regarding the time, date and place where your emails were read. The add-on will also tell you the type of device that was used to click your links and open your emails.
All in all, I can say that MailTrack is a reliable Gmail add-on for Chrome. It's quite useful since a lot of users would certainly want to know if their emails were read or not. This could help avoid misunderstandings and missed opportunities. Other than this, this add-on can definitely benefit those who are constantly communicating with their clients and customers. If you're concerned about the privacy of your data, you can refer to the add-on's privacy policy and support section.
While I don't really have any serious concerns regarding this Gmail add-on for Chrome, I do think that its email delivery notices could get too annoying especially if you're sending multiple emails to a single contact. It could've been much better if users could freely opt-out from this feature. After all, you can always check the status icon to know if your emails were read or not.
Conclusion and download link
I like MailTrack and I find it useful. It's also stable and responsive plus it gives accurate and timely read receipts and email notices. So if you want to add more functionality to your Gmail, better check out this free add-on for Chrome.
Do you know any good Chrome app that works like MailTrack? Feel free to write them down in the comments below.
Price: Free

Version reviewed: 0.14.5

Requires: Google Chrome on Windows XP, Vista, 7, 8, Linus and Mac OS X

Related Posts