VLC Media Player is a freeware software package, for the Windows, Unix, Mac OS X and Linux platforms, which plays video/audio files.
This is the VLC Media Player website from where you can add it to your software library. Like many software packages, VLC Media Player includes keyboard shortcuts (hot keys) for its options. You can also customize VLC Media Player's shortcut keys.
After opening the VLC Media Player window, click Tools and Preferences. That opens the window in the shot below. Click on the Hot keys option at the bottom left of the window.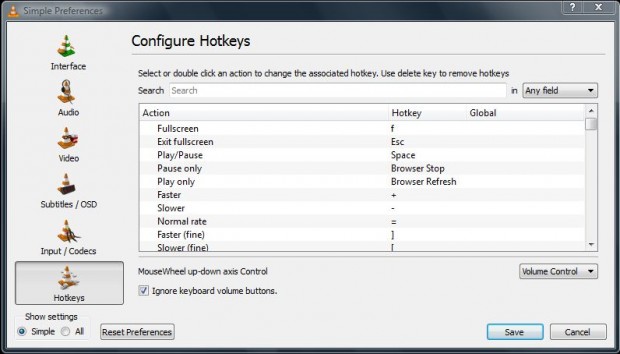 That window lists all the default VLC Media Player hot keys. If you're searching for a specific shortcut key, enter a hot key keyword in the Search box. For example, entering volume finds volume up/down keyboard shortcuts.
To customize those keyboard shortcuts, double-click on one of the hot keys listed. That opens the Hotkey change window below. Press the new keyboard key, or keys, to switch the hot key to. The keyboard shortcut you pressed then replaces the default on the hot key column list.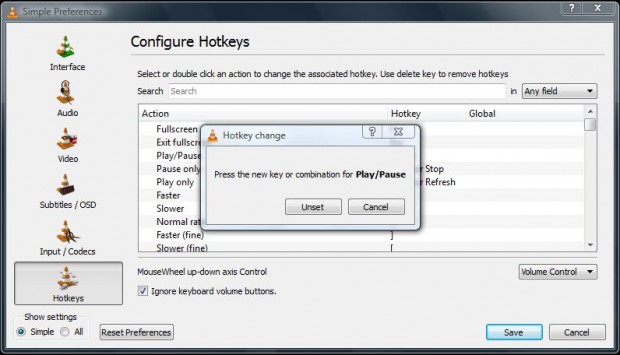 Next click on Save to close the window. Note that you should also restart VLC Media Player for the new hot key to take effect. After restarting the software, press your new VLC Media Player hot keys to select their associated options.
By customizing the VLC Media Player hot keys, you can change them to more preferable alternatives. However, the defaults can also be restored if required by selecting the Reset Preferences button on the hot key window.
Related Posts