If you wish to know to easily hide or restore all open tabs in Chrome in just a single click, you simply need to follow the instructions listed below.
By learning how to do so, you can immediately hide all of the sites that you are currently browsing from those who likes to meddle with your online activities. Who knows? Some stranger might be standing behind you while you're browsing the web on a free Wi-Fi zone. You can't always guarantee that others won't take a glance at the sites that you're viewing. Some would even try to read your emails, chat messages and even your status posts.
How to hide or restore all open tabs in Chrome with one click
Step 1
Open your Chrome web browser then go to the Web Store.
Step 2
Download and install the extension called "Hide Tabs Button".
Step 3
Once installed, the extension will add a small icon on the right side of your browser's address bar (omnibar).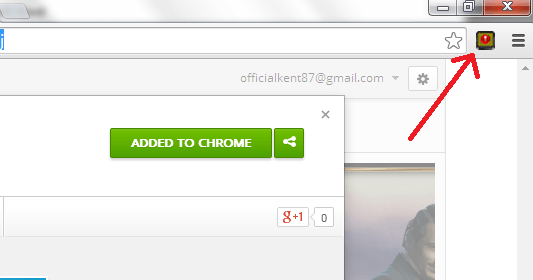 Step 4
For testing purposes, open multiple tabs in your browser then click the "Hide Tabs Button" icon on your browser's omnibar.
After which, all of your active tabs will be immediately hidden from your browser window. The only tab that you'll see is the tab that you're currently viewing. The rest will be hidden.
Tip: Click on the new tab button to open your new tab page before you click the "Hide Tabs Button" icon. This will ensure that all of your tabs will be kept hidden except, of course, for your new tab page.
Step 5
To restore your hidden tabs, just click on the "Hide Tabs Button" icon again then click the "Expand All" option. If you wish to clear all of your active tabs, just click the "Clear" option. It's as easy that.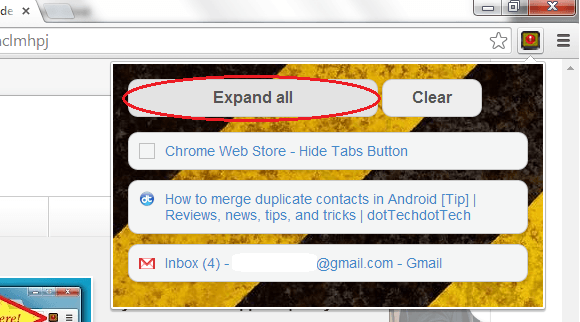 Alternatively, you can opt to restore just a single tab of your choice. To do so, simply click on the extension's icon on your omnibar. Instead of clicking the "Expand All" option, just click on a specific page or tab that you wish to restore. This option is great especially if you don't want others to see the rest of the tabs that you've previously hidden.
Related Posts