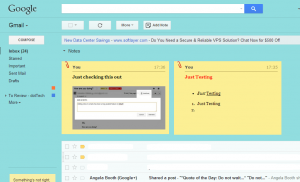 Did you know that you can do more with Gmail than just send a simple email? As a matter of fact, you can use it to send email reminders as well as emails with read receipts. All you need is the right add-on. Speaking of which, Notes for Gmail is a tool that you can use to add notes to your email messages and conversations. Let's find out if it can live up to your expectations.
What is it and what does it do
Main Functionality
Notes for Gmail is a free Chrome browser extension/Gmail add-on. With this tool, you can conveniently add notes to your email messages and conversations. You can even post and pin your important notes on top of your Gmail Inbox and custom folders. That's not all. Notes for Gmail can also set due dates and reminders for your notes.
Pros
Simple, easy-to-use
Non-obtrusive, seamlessly integrates with your Gmail account
Stable and responsive
Built-in sharing options – share your notes to Facebook and Twitter
Integrated search option – use the #notesforgmail hashtag to search for all emails with notes
You can add, post and pin notes on your Gmail's Inbox and custom folders
You can add notes to your email messages and conversations
You can set due dates and reminders for your important notes
Supports rich-text formatting – you can set the text style to bold, italic or underline; you can also insert images, numbered lists, bulleted lists, etc.
Sync support
Cons
You cannot change the color of the note
No support for data import/export
Discussion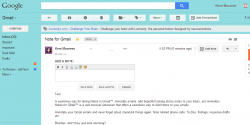 To use Notes for Gmail, you need to install it first on your Chrome web browser. After which, go to your Gmail account then complete the setup and authorization process. Once you're done, just refresh or reload your Gmail and that's it. The tool is all set and ready to use. Just look for the "Add Note" button. If you are viewing an email thread, you can find it right beside the "reply" button.
Since this tool supports rich text formatting, you can create notes with bold, italic or underlined texts. You can even change the text color. Apart from that, you can also create bulleted lists as well as numbered lists. This makes the extension very suitable for creating to-do lists, shopping lists, etc. You can even insert images to your notes. As for links, just type the full address of the site or page and it will be automatically converted into an active URL.
What's great about Notes for Gmail is that you can literally post notes on almost any section of your Gmail interface. You can add and pin notes on top of your Inbox, custom folders, etc. So it's not just limited to your email messages and conversations. Apart from this, you can also set email due dates and reminders or even pin an existing note from one of your email threads to your Inbox.
Another thing that I like about Notes for Gmail is that it can sync your data or notes to other devices. So let's say that you're using two or more computers (one at work and one at home), just install the same extension to your other device and connect on it using the same Google account. It's that simple. It should also be noted that this tool is also available as a Firefox add-on.
Functionality wise, I do not have any serious concerns regarding this extension. It works as advertised plus it's very simple to use. It is also responsive and stable so you can definitely use it on a regular basis especially if you are the type who frequently takes notes while at school or at work. It's just that it could've been much better if it also has an option to change the note color. It also would also be great if this tool would add an option for data import/export. Such option would be useful for transferring note data to other note-taking apps or platforms. Apart from this, there's also no way to resize or rearrange the notes.
Conclusion and download link
Notes for Gmail is a handy tool for avid Gmail users who wish to add notes or annotations to their email messages and conversations. It has its own set of drawbacks but what's more important is that it serves its purpose without any annoying glitches or errors. So if you still haven't tried it yet, go ahead and check it out.
Price: Free

Version reviewed: 1.2.92.0 (open beta)

Requires: Chrome on Windows XP, Vista, 7, 8, Linux and Mac OS X

Related Posts