According to Net Applications, an authority on Internet browser usage statistics, Internet Explorer (all the versions added together) is continually losing market share, and has finally dropped below 60%:

Meanwhile, as you can see from the graph, Firefox's market share is at 24.59%, Opera and 2.3%, and Chrome at 6.73%. Chrome had the largest increase in market share at a increase from 2.4% only last year. This chart gives a better idea about the browse usage trend over the years: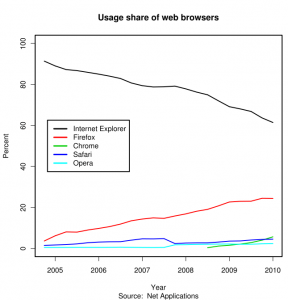 It is interesting to note that other sources, such as W3Counter, say Internet Explorer market share is even lower than the 59% stated by Net Applications:

Further it is even more interesting to note that Firefox has already surpassed Internet Explorer as the most popular browser used by dotTechies (50% vs 30% roughly).
Of course no one knows exactly why Internet Explorer is losing market share (it is impossible to know exactly), but chances are it is because
Other browsers, such as Firefox and Chrome, are offering enhanced features via extensions/addons. Internet Explorer also supports addons, but not to the extent of Firefox and Chrome.
Other browsers are boasting better speeds.
Awareness among users is being raised to the fact that Internet Explorer is not the only browser out there. Internet Explorer has a really bad reputation (particularly thanks to Internet Explorer 6) so when users find out about other browsers, many make the move.
Feel free to share your thoughts on the matter.
Related Posts