When I first started registering domains, I used to use GoDaddy.com for all my domain purchasing needs. I picked GoDaddy originally because
I had heard really good things about them.
GoDaddy often offers coupons that allow users to purchase domains for cheap (i.e. 1 year registration for 99 cents).
In fact I registered my first domain using one of the above mentioned coupons. However, when renewal time came around, I realized the fact that I would have to not only pay to renew my domain (about $10 a year), but I would also have to pay for private registration (an extra $5 a year if I remember properly). That is when I realized that I was overpaying; yes GoDaddy has great service (they are very fast in registration times and make it very easy to change nameservers) but service really doesn't matter after the initial setup because one rarely ever interacts with the domain afterwards. In other words, any domain registrar with 100% up-time would do. So, I migrated to 1and1.com because 1and1 not only has cheaper yearly renewals (about $9 a year) but they also provide free private registration. Yes, 1and1 service is a lot slower than GoDaddy's; you won't get instant domain registration (can takes up to 24 hours to process) and changing nameservers also has some lag time when compared to GoDaddy. However, 1and1 provides the 100% up-time I was looking for and for a cheaper yearly price. dotTech was the first domain I registered with 1and1 and since then I have not used anyone else for my domain registration needs.
Update: Please realize that I am not praising 1and1 or telling you to move all your business to them – they have a really bad reputation when it comes to web hosting and customer support. Rather, I am saying my personal experience is that they are a good enough domain registrar – I have had nothing but a positive experience with them, albeit I have not dealt with their customer service much which is what most people complain about.
That said, by luck, I visited 1and1.com today because I was thinking about registering another domain. When I got to 1and1.com, I noticed that 1and1 is running a promotion allowing users to register a .COM domain for free for one year: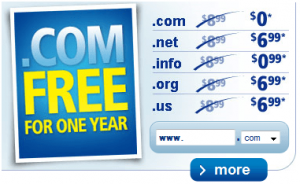 At first I thought it was one of those "purchase-our-webhosting-package-and-we-will-give-you-a-domain-for-free" type deals. However, it isn't – it is a legitimate promotion that truly allows you to get a .COM domain for free for one year ($8.99 yearly renewal fee afterwards which will automatically be charged 1 year later unless you cancel your domain):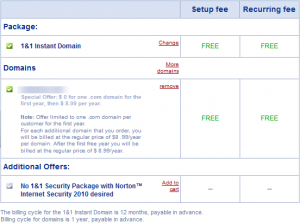 The free domain comes with the free private registration that all 1and1 domains come with (you have to manually setup the private registration; you will be given the option either during registration or you can do it via the backend after registration). Do note, however, you will be shown offers to purchase web hosting, get Norton Internet Security 2010, etc.; you do not have to get any of those offers – just click "No Thanks" and continue registering. After you have successfully registered, you will get a confirmation message…

…and all you have to do is wait for the confirmation e-mail from 1and1 to get started with your new domain! So what are you waiting for? Go get your (free) domain today!
Related Posts