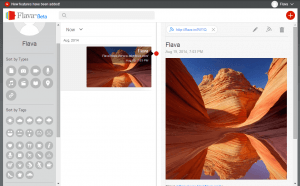 The web is full of various social networking and bookmarking services. There's Facebook, Tumblr, Twitter, Pinterest, etc. If you want to take notes, there's Google Keep and Evernote. Now, what if you want something a bit different? Like, for example, a private note-taking service with a chronological timeline? Well, in that case, you might be interested in checking out this cross-platform service called Flava.
What is it and what does it do
Main Functionality
Flava is a cross-platform private note-taking service. It has a standalone web app but at the same time, it is also available on iOS, Android and Chrome. With Flava, you can keep an organized record of your notes and ideas. You can even save links, maps, photos and videos. What makes it even more interesting is that it displays all of your records in your personal and private timeline. Thus, it makes it easier for you to find and view the notes that you're looking for.
Pros
Neat, stable and responsive UI
Chronologically organized timeline
You can take notes, save links, photos, videos, audio recordings, songs, maps, books, etc.
You can organize or sort out your personal notes by tags and thematic icon tags
Cross-platform – you can access it anywhere (on your PC, tablet or phone)
Built-in sharing options – lets you share your notes to Facebook, Twitter, me2day, Weibo, etc.
Supports offline backup and data import
Cons
You can only add up to five photos per note – it would be nice if users can choose between uploading albums or individual photos
Does not support rich text formatting – ex. setting text to bold, underline, italic, change text size, text color, font style, etc.
Discussion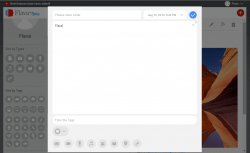 Flava is a private note-taking service. Therefore, it doesn't show any of your saved items to the public. To access your private dashboard, you need to sign up for an account first and then you log in to the said service.
Since Flava is a cross-platform service, you can access it anywhere may it be on the web, on your PC, tablet or smartphone. It should also be noted that the said service is also available as a free Chrome browser extension.
With Flava, you can keep a record of all sorts of things. It could be your personal notes or some random link that you found while browsing the web. Speaking of which, Flava flaunts a timeline wherein you can view all of your notes in chronological order. Simply put, it's like a combination of Facebook and Evernote but with the addition of pre-defined thematic icons.
To add a new note, you simply need to click the red plus icon on the top-right corner of your dashboard. You will then be able to enter the title of your note as well write some text about it. You can also categorize your notes by adding regular tags and thematic icons. Aside from this, you can also include various media files to your notes such as your photos, music, audio recordings and even your videos. You can even attach links which is great for saving online articles and download resources.
All in all, I can say that Flava is a very decent private note-taking service. It also looks good and functions well without any bugs or errors. Even so, do keep in mind that this service is still in beta so it is still undergoing further development. With regards to that, it would be really nice if this service could add support for rich text formatting since its current text editor does not allow users to change the style or formatting of their text. It's also a bummer that users can only upload up to five photos per note. It would be great if it could offer an option that would allow users to upload an entire photo album instead.
Conclusion and download link
Flava is a nice service for private and personal note-taking. I also like the way how it displays notes in a chorological timeline. Plus, it's cross-platform so it makes it easier for you to view or add notes regardless if you're using your computer, tablet or phone. It may have its own share of downsides but it also flaunts some good features. So go ahead and feel free to give it a try.
Price: Free

Version reviewed: Beta

Requires: Web (works on any browser) – also available on Chrome, iOS and Android

Related Posts