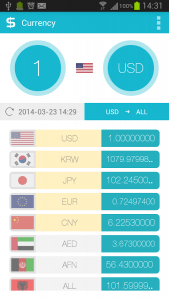 If you're someone who often needs to monitor the currency exchange rate, then you can't always rely on Google Search. You need to get a reliable tool or app that can give you the exchange rates of different currencies on a real-time basis. After all, this is money that we are talking about so it pays to be accurate. Speaking of which, you might be interested in checking out this currency conversion app for Android called "Just Currency".
What Is It and What Does It Do
Main Functionality
Just Currency is a free currency conversion app for Android that offers real-time exchange rates. Although you need to manually reload the app to get the latest exchange rate, it does flaunt a simple yet modern and responsive user interface. That's not all. The app supports real-time currency calculation and you can even add a currency as one of your "favorites". In addition, the app currently supports over 168 currencies including USD, AUD, KRW, AED, AFN, ALL, ANG, AOA, BDT, BGN, BHD, BRL, CAD, CNH, CNY, CUP, EGP, EUR, FJD, GBP, GEL, GHS, GNF, GYD, HNL, IDR, ILR, INR, JMD, JPY, LKR, LRD, MMK, MKD, MYR, NZD, RSD, SGD and many more.
Pros
Easy to use, simple yet stable and responsive user interface
Supports over 168 currencies
Built-in currency calculator
Real-time exchange rates – you can get the latest currency exchange rate based on the actual date and time
Supports reverse rate conversion – ex. convert USD to AUD then AUD to USD
You can add a currency as "favorite"
Cons
Except for the flags, there's no other way for you to identify a currency based on its country (ex. tags or labels)
There's no option to go "ad-free"
Discussion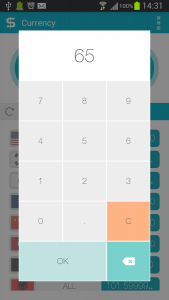 The way how Just Currency works is quite simple. After installing the app on your device, just launch it from your app drawer. On the app's main screen, you can see a modern-looking layout. The sections are also very easy to recognize so you can easily tell which is which. On the first circle, you can see a number and if you tap on it, you'll be able to indicate the amount that you want to convert. By default, the amount is set to 1. Just press "OK" once you're done.
On the second circle, you can view the primary currency. By default, it's set to USD. If you want to change it, just tap the flag of the currency that you wish to use. After which, the results will be displayed and you can see the exchange rate for all of the currencies listed. So if you choose KRW as your main currency, just indicate the amount that you wish to convert (ex. 10000 KRW) then its equivalent rates will be displayed for all currencies. Just scroll the screen to check for specific exchange rates. If you want, you can also add a currency to your "favorites" for a quicker reference.
Anyways, one of the things that I like about this app is that it supports reverse conversion plus it gives out real-time exchange rates of over 168 currencies including USD, AUD, KRW, AED, AFN, ALL, ANG, AOA, BDT, BGN, BHD, BRL, CAD, CNH, CNY, CUP, EGP, EUR, PHP, etc. It's also really easy to use plus the currency values are quite accurate.
All in all, I can say that the app's simplicity adds up to its appeal to common users but, at the same time, it can also live up to the expectations of the finance experts. It's just a downer that this app doesn't allow its users to go "ad-free". It's also not suitable for those who aren't really familiar with country flags and their respective currencies. After all, you can't perform a currency search by country. You just have to rely on the currency code to know that GBP stands for Great British Pound and it's the currency code for UK while KRW is the currency code for South Korea and so on.
Conclusion and Download Link
Just Currency is a reliable and accurate currency conversion app for Android. It's a very useful app that can truly benefit those whose line of work involves a lot of currency conversions (ex. currency trading, money changers, overseas workers). So go ahead and check it out.
Price: Free
Version reviewed: 1.1.14622
Requires: Android 2.2 and up
Download size: 3.6MB
Related Posts