As I am sure most of you know already, Advanced SystemCare Pro is a popular system optimization/management/cleaning/etc. tool from IObit. While IObit may have some questionable tactics for their Internet Security 360 software, Advanced SystemCare Pro itself is fairly good software, although somewhat a RAM hog sitting in the background all the time (last time I checked it uses ~40 MB RAM while idle in the background but I haven't used Advanced SystemCare Pro for a long time, so this number may no longer be accurate). Of course IObit has run multiple Advanced SystemCare Pro promotions in the past 6 months, so you may already have a free 1 year license. However, it doesn't hurt to renew your license or to grab it now if you don't have it yet.
To get the free 1 year licenses of IObit Advanced SystemCare Pro follow these simple directions:
Note: According to the e-mail I got, this promotion is supposed to be active for 72 hours from May 17, 2010 to May 19, 2010. However the promo is very much active right now, even though it is not May 17 yet.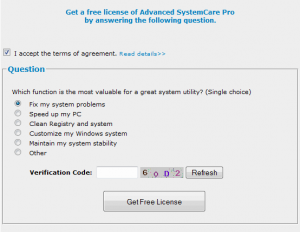 After you have filled out the form, you will be given a download link and your registration information:
Keep this page open because you will need to copy + paste the account name and license code soon.
Download and install Advanced SystemCare Pro. Take note during installation options to add IObit to favorites and to install IObit's toolbar are checked by default:
Uncheck them if you don't want them (most people don't want them or need them because they are junk – I don't want or need them).
After installation, "upgrade" the Free version to Pro by entering the account name and license code you got earlier:
There will be a short four step wizard to follow after you click "OK" to setup the new features you unlocked by "upgrading" to Pro.

If you are having trouble successfully upgrading to the Pro version, try these two tricks:

Disconnect your network connection temporarily, and try to activate Pro again. After successful activation, you can enable your network connection again.
Disable your live protection anti-virus/anti-spyware/firewall, and try to activate Pro again. You may re-enable it after successful activation.
If you have any trouble getting this, please post below and me – or other dotTechies – will try to help.
Related Posts