Whether you are doing this to conserve energy, battery life or for privacy, Dekisoft Monitor Off Utility allows users to completely shut off their laptop screens. If your laptop does not make provision for this functionality, Dekisoft Monitor Off Utility could prove very useful to you.
Of course Windows has energy saving measures which can be tweaked in order to prolong battery life but these features usually involve initially dimming the screen followed by the screen being eventually turned off. This utility allows you to immediately turn off your screen. The screen of your laptop is one of the biggest contributors to the drain of your laptop battery so there is plenty of merit in downloading this program.
Dekisoft Monitor Off Utility can be downloaded from here. On installing and opening this application, you will be presented with the following screen: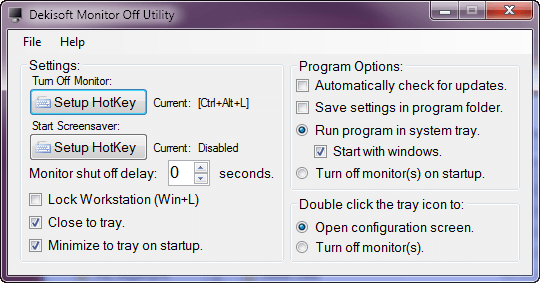 This utility offers several features and is quite straight forward to use. The 2 main features of this application are, the activation of your screensaver or the turning off of your LCD at will. You can also:
Set a hot-key for turning off your monitor or for starting your screensaver at will
Specify the delay before the monitor is actually shut off
Set your computer to lock automatically before turning off your monitor
Specify the closing of the application to the system tray
Minimize the application to the system tray on the startup of your computer
Automatically check for updates
Start the program with windows
Specify whether or not to turn off your LCD on startup
Specify an action which would correspond to a double click on the system tray icon
This is definitely a handy little app to have in your arsenal.
Related Posts