Okay, so there's this video on YouTube that caught your attention. The thing is you do not want to share the full video. You just want to share a funny or interesting part from that video. Now, you're wondering if it's possible to chop or trim that section from the video without using any video editing software. Well, you most certainly can!
So if you're all set, here's what you need to do.
How to make a short clip from a YouTube video online – The Steps
Open your web browser of choice (ex. Chrome, Firefox, etc.).
Go to YouTube then copy the URL of the video that you want to trim or chop.
Next, click here to go to "TubeChop" – a free online tool (web app) that lets you trim any video on YouTube without downloading or installing any software or desktop app. You're also not required to log in or register.
On the web app's homepage, paste the YouTube URL in the field provided (see previous step). Click "Search" to proceed.

On the video edit page, just indicate the start time and end time for the section that you want to chop or trim. If you're unsure of the exact time, you may use the seek bar. Just click and drag the buttons on the seek bar from left to right or vice versa.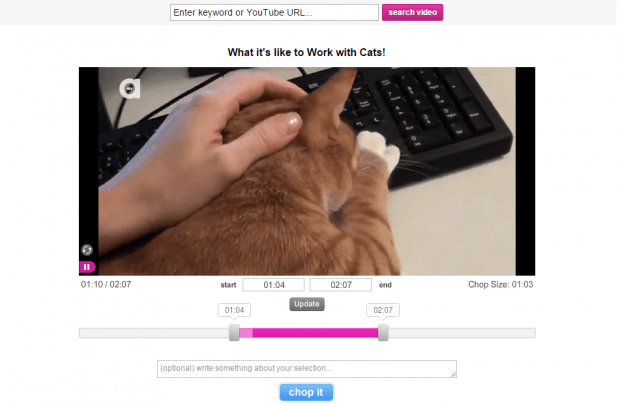 Once you're done, click "Chop It" then you will be immediately redirected to the page where you can preview and share the trimmed version of your YouTube video.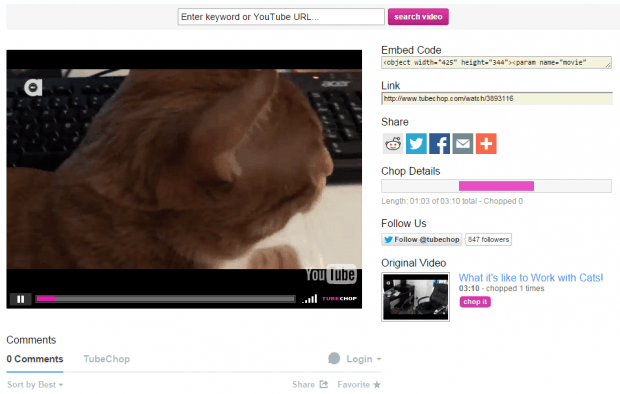 You may even copy the trimmed video's embed code then paste it to forums and sites.
Alternatively, you can use TubeChop to directly search for a video from YouTube. Just enter your desired keywords or phrases on the search bar. Click the "Chop It" button under the video's title to trim its funny and interesting sections.
It's that simple.
Related Posts