Java is a widely used platform. The Java runtime files enable you to execute Java applets within your browser. As newer versions of Java are rolled out with regularity, you hard disk is most likely cluttered with files from redundant, or outdated, versions of the Java Runtime Environment (JRE) that don't properly remove themselves upon each update. Keep reading this guide to learn how to delete old versions of Java from your computer.
To delete those redundant Java runtime files, check out the JavaRa software.
JavaRa is a freeware, and portable, tool that you can add to Windows to delete redundant Java versions. To begin, simply open this page and press the Download button to save the software's Zip file. Then right-click the Zip and select Extract All to extract the file. Open the software's window, in the shot below, from the extracted folder.

There click on the Remove older versions button. If Internet Explorer is open, close it before you select that option. Then it will delete Java runtime files, and set up a log file in your main hard drive folder.
For some further options, click the Additional Tasks button to open the window below. There you can select check boxes to remove JRE files, startup entries, JavaRa logfile, Java IE and the Java Console Extension. Then click Go to remove the selected items.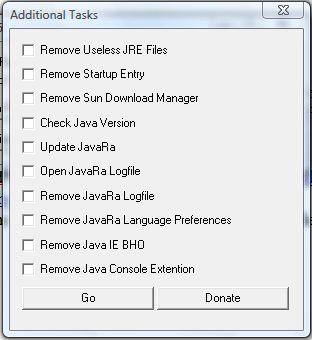 Now you can remove Java runtime clutter to free up disk space. The software is compatible with the Windows XP, Vista and 7 platforms.
Related Posts