Months ago, Microsoft surprised everyone with Project Spartan. It's a brand-new web browser that the company has built from the ground. Keep in mind this is absolutely not Internet Explorer. You should also know it has new rendering engines as well as a completely different user interface. Everyone is excited to try it out in Windows 10 Technical Preview build 9926, but unfortunately, Spartan is not ready yet. However, there is its rendering engine that can be enabled in IE 11 with a few clicks. That way you can have a feel of the new browser.
How to enable Spartan's rendering engine in IE 11 in Windows 10 TP build 9926
First, you need to open IE 11.
At the address bar, type, "about:flags" (without the quotes) and press enter.

Then there will be the Experimental Features page. You just need to check "Enable" at Enable Experimental Web Platform Features.
Finally, restart IE to apply the change.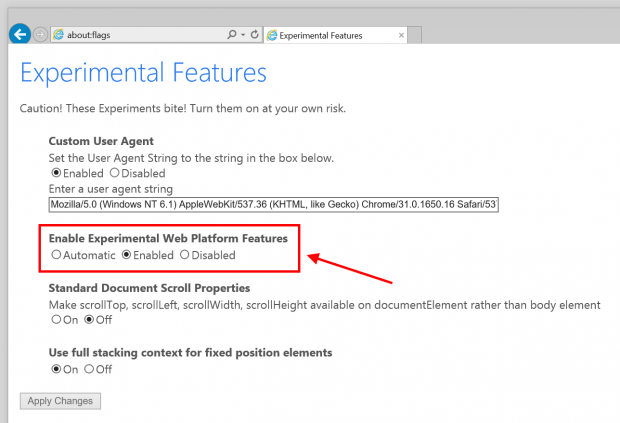 According to AnandTech, the improvement in JavaScript performance is significant. However, this is still an experimental feature which can cause unexpected problems when being used.
Related Posts