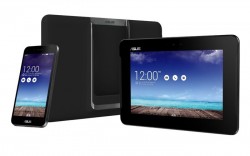 The ASUS Padfone X is a smartphone which connects like a tablet to the back of the main part of the device. It wasn't hugely successful and only had a release in the United States with the AT&T phone carrier network. As such, there probably isn't a huge amount of custom ROMS to install because only a small amount of third-party developers would develop ROMs for the device.
That being said, you should still find most of the application which are available for devices with root access working for you. Choose to have fun or develop the performance of your phone as if you were taking it in for a tune-up. try Overclocking the CPU and other fantastic tweaks.
REQUIREMENTS
Use a stable WiFi connection instead of mobile data.
Only installing the following file on the Padfone X and no other devices.
BEFORE WE BEGIN
You don't need a computer this time. You are downloading the rooting file directly to the device. usually the former way is safer, but in this instance it's fine to do as we are directing you.
Since there is no computer of any description involved you can skip enabling the USB Debugging mode.
You are relying on the phone for the full guide. You will need to plan the battery levels accordingly. We recommend saving up at least 70% battery. That way you are not risking it shutting down during the rooting procedure.
HOW TO ROOT THE ASUS PADFONE X
Download the rooting file here.
Download the file directly to the device. Bypass a computer.
Search for the lambda icon and click to open.
Tap on the application and open the towerool program.
Download the SuperSU app from Google Play.
Download the root checker application and check it's working correctly.
Next up we'll show you how to install a custom recovery on the same device. Click the link here for installing team Win's TWRP recovery.
Related Posts