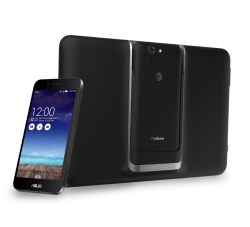 There are two main types of custom recovery image people install on Android devices. The most popular is the ClockworkMod recovery. It grew to easily surpass the competition. While some say there's merit to that, other swear by the awesomeness of team Win's TWRP recovery. When creating how-to guides, the Team Win version does seem easier to use thanks to the shorter titles for finding options and features.
Both versions will give you the same result, though; an area where you can apply a factory reset, boot into the partition to install a custom ROM and perform essential tasks such as taking a Nandroid backup. Nandroid's are a must because you wipe the data from the ROM during a clean installation of a different ROM.
BEFORE WE BEGIN
You don't need a computer for the guide.
You do need to have the ASUS Padfone X with you handy because you are using it for the duration of the guide.
Since you are using the Padfone a lot, you should charge the battery accordingly before starting. We recommend saving up at least 75% battery so it doesn't shut down until we finish the steps.
HOW TO INSTALL A CUSTOM RECOVERY ON YOUR ASUS PADFONE X FROM TEAM WIN
Download and install the Terminal Emulator from this link here.
Wait until the app finishes installing on the smart phone before launching it.
You'll see an emulator window pop out like you would see a command prompt window on Windows. Now we are typing some commands.
Type curl 'http://builds.casual-dev.com/files/Asus/Padfone%20X/TWRP-Nexus5repack-AO1.img'>/sdcard/TWRPrecovery.img; su -c 'dd if=/sdcard/TWRPrecovery.img of=/dev/block/platform/msm_sdcc.1/by-name/recovery' bs=4096; sync; reboot recovery;
It will automatically take over your device from here.
Do not touch any buttons while it installs the recovery image.
The screen will change to black; don't panic!
Now reboot your device because it's not changing from the black display until you reboot.
Congratulations! You have successfully installed on of the most popular custom recovery images on your device. As you know, you cannot do much with root access until you have a custom recovery installed.
Related Posts