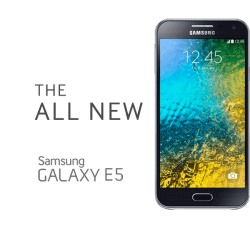 The Galaxy E5 is another 5-inch smartphone coming with Android 4.4.4 KitKat out of the box. One of its upsides is it offers you a somewhat older OS now that Lollipop is out and rolling for most mid-range handsets. There's nothing wrong with investing in the E5 at this time, though, since it will surely find Lollipop coining at some stage anyway. If you are running 4.4.4 KitKat and are done looking at the stock Android with TouchWiz UI, you can root it by using guide the after the jump and flash a custom ROM.
REQUIREMENTS
You need to have one of the three different variants of the E5: SM-E500M, SM-E500H or the SM-E500F and click the appropriate link for you below.
You want the Android 4.4.4 software running and not the Android 5.0. Check that from the About Device menu.
BEFORE WE BEGIN
Download the following items to the desktop of the Windows PC:
HOW TO ROOT THE SAMSUNG GALAXY E5 IN ANDROID 4.4.4 KITKAT
Extract the files you downloaded above to the desktop of the PC so you can use the executable files inside.
Double click the Odin file so it's opening on the desktop and leave it there.
Completely power down the E5 phone by holding in the power button for 15 seconds.
Connect the E5 to the computer with the USB cable.
Click the AP button inside Odin and upload the CF-Auto rooting package from the extracted file on the desktop.
Check the re-partition box is empty.
Click the start button.
Wait until the flashes is complete, it can take ten or more minutes.
Now your E5 phone will automatically reboot itself. Once done, you are free to unplug it from the PC and take control of your Google account again.
Related Posts