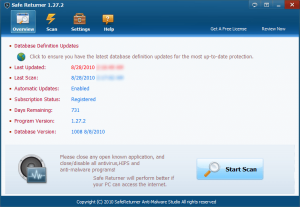 Update: This giveaway has now ended. Please subscribe to dotTech (e-mail | Twitter | RSS) so you can know about future giveaways before they expire!
Today dotTech joins forces with SafeReturner Anti-Malware Studio to bring dotTechies 2 year licenses of Safe Returner – an anti-malware program – for free!
Safe Returner is not your typical anti-malware software. It does not have live protection and it doesn't aim to prevent your computer from malware infections. Rather, using its heuristics engine and signature database, Safe Returner is a tool that aims to clean your computer after it has been infected. Here is a description of what Safe Returner is and a list of its features as per the developer: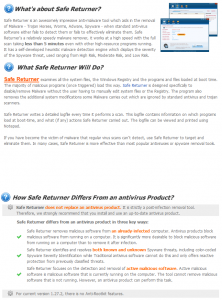 (Click on the image to view it in full size.)

(Click on the image to view it in full size.)
Since dotTech has not reviewed Safe Returner, I cannot say how good (or bad) Safe Returner is. However, Softpedia has reviewed Safe Returner and has given it 4/5 stars, so Safe Returner must be doing something right. Since Safe Returner is a security software – and not just your average program – I highly suggest you read Softpedia's review before you decide if you want to grab Safe Returner or not.
For the next 24-hours, dotTechies are able to grab a 2 year license of Safe Returner for free; if you are interested in getting Safe Returner, follow these simple directions:
Version being given out for free: v1.27.2

Free updates: Yes database updates and program updates (1.x versions only) are free for as long as the license lasts.

Supported OS: Windows 2000/XP/Vista/Win7

Update: If you are on Win7 64-bit, be sure to run Safe Returner as administrator.


Download size: 3.0 MB

Special note: This giveaway is active for 24-hours, from August 28, 2010 03:00 PST to August 29, 2010 03:00 PST. After this 24-hour time period, users will no longer be able to grab the free 2 year license of Safe Returner. However, the developer has informed me anyone that has grabbed the license within the 24-hours can "activate the app whenever they want". In other words, the timer on the license will start ticking soon as you get it, but you can install/reinstall Safe Returner with the license whenever you want.
Visit the

dotTech Safe Returner promotion page

and fill out the short form:
Note: This promotion is available to everyone – everyone may get it for free. However, this is a dotTech.org promotion. Please do not directly link to, copy, paste, or reprint the link to the registration page anywhere else including private or public forums, blogs, file hosting services, etc. If you want to spread information about this offer, you may link to this article by providing a permalink (alternative permalink) to your audience. If you respect our wishes, we will be able to continue to bring you great freebies. If you don't, we have no incentive to continue our promotions and they may stop.

After you have filled out your e-mail address and hit "Get It Now", your license key will be displayed to you:

Copy the serial number because you will need it to register Safe Returner. (NOTE: The "Copy Serial Number" button may not work – you may need to manually select + copy the serial number.)
Download and install Safe Returner.

(If your computer is already infected with malware and the malware is blocking .EXE files from running, download the .COM version of Safe Returner.)

After you have installed Safe Returner, run it and register it: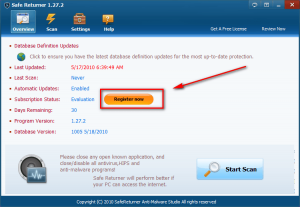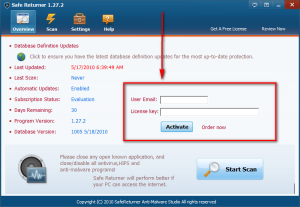 You will be asked to restart Safe Returner:

Restart Safe Returner. If you did it all properly, it should say "Registered" under "Subscription Status".
Play around with Safe Returner, come back here, and post a comment providing the developer with feedback on the program.
Enjoy!
If you have any trouble getting Safe Returner for free, post below and me or other dotTechies will try to assist you.
Related Posts