In a previous post, you've learned a neat method on how to enable the auto-complete feature in Gmail. With the said feature, you were able to write and send emails faster. Apparently, it predicts the words that you're typing so you no longer need to type the full word or phrase.
Now, this post features an alternative option but the good thing about it is that you can personalize things by adding your commonly used phrases and words. So if you want to learn how it can be done, simply read on.
How to compose emails faster in Gmail
For this method, you will be adding the extension manually in Chrome. If you want to learn how to add extensions outside of the Web Store in Chrome, read this post.
To get started, go to the homepage of "Composure". Once you're there, click the download link at the top of the page. It will prompt you to download a CRX file (ext.crx) so just save the file to your computer.

Once done, open your Chrome extensions page. Type chrome://extensions on the URL bar and then press "Enter".
Next, go to where your CRX file is and then drag the file to your browser's extensions page.
Click "Add" on the Confirm New Extension dialog when prompted.
Once added, the extension will add its icon to your browser's omnibox. It will also open its tutorial page.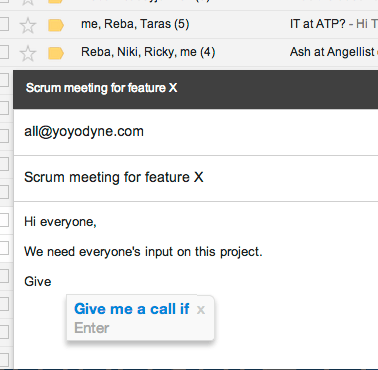 So what's next? Just open your Gmail account, go to your inbox and then compose a new message. As you type, Composure will automatically suggest words and phrases that you might want to use. If you think that it's appropriate, just press "Enter".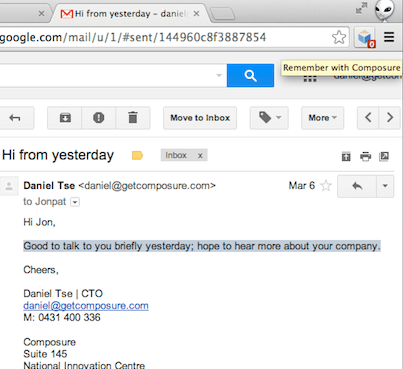 Now, if you want to customize the extension by adding your own words and phrases, just highlight the word or phrase that you want and then click the extension's icon on the omnibox.
The next time that you write or compose a new email, Composure will automatically suggest the words and phrases that you've saved.
That's it. You may also check out this video for the demo.
Related Posts