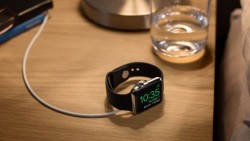 The beauty with Apple devices is that everything is simplified so no tutorial is ever too daunting. I wish I could say the same for each smartphone manufacturer. If pairing the Apple Watch with the iPhone of your choice is usually something you'd wish was over already, fear not because it will be over very quickly after you open it out of the box. Here's how to connect the Apple Watch with iPhone easily:
REQUIREMENTS 
The Apple Watch
An iPhone 5 or newer to pair with the watch.
Have the iPhone updated to iOS 8.2 at the very least. Update the iPhone via a waiting OTA notification if you are not yet running iOS 8.2. You'll find it by navigating to Settings > General > Software Update.
HOW TO PAIR THE APPLE WATCH WITH IPHONE
Turn on the Apple Watch by holding in the button on the side until you see the Apple logo displayed on the watch face.
Choose the language that you understand best.
Unlock the Passcode and launch the Apple Watch dedicated app from the iPhone Springboard.
Select the "Start pairing" option from under "My Watch" options.
Watch as the Apple Watch nearby displays an animation on the face. That means it's now trying to connect. You must have the watch near enough to get this to work so have it close by.
Wait until you get the official message "the Apple Watch is paired" on the display.
You'll see two options from here: "Set up as new Apple Watch" and "Restore from Backup." Chose the first option and set it up.
The next screen lets you allocate which arm you will wear the watch. Choose wisely as giving it the wrong arm will result in less performance.
Read the terms and conditions and choose to accept them if you agree (or if you just want to use the watch because you're doomed otherwise!).
The final screen is presenting a password. This is the Apple ID password that you already have paired with the iPhone for downloading apps.
Choose whether you want Locations Services and Siri paired.
The next screen is about diagnostic information which will help Apple developers better understand bugs.
You can create a dedicated password for the Apple Watch. Enter a password if you would like to have one. It is not compulsory.
Lastly, Apple let's you choose if you wish to sync the apps. Choose yes and get a drink because this one takes a while.
Eventually the display should read the Apple Watch is ready. Cheers!
Related Posts