Do you feel compelled to give your Twitter profile a makeover? Well, it's not just about changing your profile photo and updating the header. You also need to check and do some spring cleaning on your Twitter timeline. This, of course, includes the tweets that you've marked as "favorite". Apparently, checking each one of your tweets and removing them can be quite a hassle. So if you wish to delete all of your favorite tweets in a hassle-free way, then you better refer to this guide.
How to easily delete all favorite tweets in Twitter
On your web browser (ex. Chrome, Firefox, etc.), click this link to go to the "Unfavinator" website. It's a web tool that lets you delete your Twitter favorites.
Once you're on the Unfavinator page, click "Sign in with Twitter" and then log in using your Twitter account.
Click "Authorize app" when prompted.
Once you've successfully linked your Twitter account to Unfavinator, it will automatically show you a list of your favorite tweets.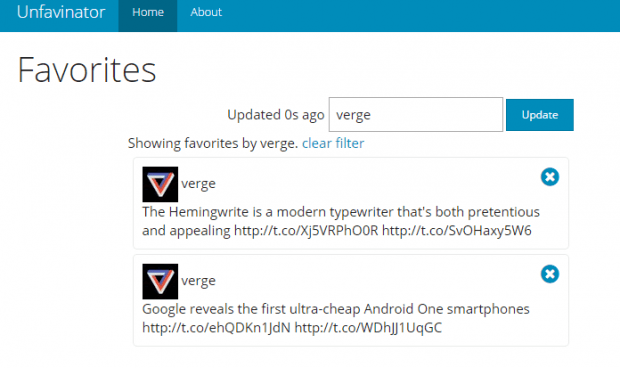 Just browse the list and do not forget to check each of your tweets. To delete a tweet from your "Favorites" list, just click the "X" button that appears right next to it.

Do the same for the rest of your tweets.
If, in case, you only want to delete the tweets that were posted by a specific user, just use the filter option and then type in the Twitter handle. Click "Update" to confirm.
That's it. You're done.
Related Posts