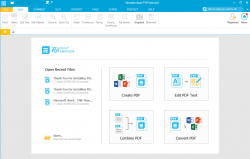 Saving a document as PDF allows you to visually preserve all elements in your document. That's not all. It also makes it possible for you to include interactive functions like highlights, stamps, digital signature, comments, links, etc. The thing is all of these features and options make it difficult for you to edit or update your PDF using a standard word or text editor. You'll need a different tool that's specifically designed to do such a thing. Guess what? Wondershare has one and it's called "PDFelement". So let's find out if this tool has what it takes to live up to your expectations.
What Is It and What Does It Do
Main Functionality
PDFelement by Wondershare is an all-in-one PDF tool for that supports both Mac and Windows platforms. It lets you create PDF documents from scratch but that's not all. It also lets you convert your images, text files, Word, Excel, PowerPoint documents to PDF. Other than that, it has a built-in PDF editor with comprehensive tools that lets you delete, edit, add texts, objects and other elements. You can also choose to convert your existing PDF files into other formats (Word, Excel, PowerPoint, Text, Image, HTML, etc.) and many more. In addition, this tool also features a premium OCR plug-in which is great for editing scanned PDFs and images.
Pros
Easy to install, easy to use
Full-featured – you can find lots of comprehensive tools for creating, editing, converting and viewing PDFs
Neat, customizable, stable and responsive UI that features tabbed layout – great for multi-tasking (editing multiple PDFs at once)
Users can create PDF documents from scratch (start from a blank PDF file)
Users can convert other file or document formats to PDF – you can convert images, Doc files, Excel files, PowerPoint files, text files, HTML files, etc. to PDF
Users can edit existing PDF documents using various tools for adding or deleting texts, objects, images, links, formatting font, layout, text size, add comments or annotations, highlights, etc.
Users can edit each PDF page using various tools like insert, delete, crop, rotate, split, extract, replace, add watermark, edit background, edit header and footer
Users can create PDF forms or add forms to existing PDFs – great for creating application sheets and survey papers
You can protect your PDF document by adding and validating your digital signature.
You can password-protect your PDF.
You can merge multiple files into one using the "Combine Files" tool
You can split the pages of one PDF file and save them as different files
You can easily bookmark certain parts or sections of your PDF
There's a built-in search tool for finding specific terms or sections in the PDF
You can adjust the viewing size of your PDF – single, fit page, fit to screen, zoom in/out, etc.
You can print your PDF document directly from PDFelement
You can directly share or send your PDF document to Dropbox, Google Drive or Evernote
You can convert and save your PDF document into another file or document format (ex. Word, Excel, PowerPoint, text, image, HTML, Epub, etc.)
Supports OCR (additional plug-in required) so you can easily turn scanned documents to editable files – or you can simply purchase PDFelement with OCR
You can take snapshots of your PDF file
Has a built-in user guide and other support pages
Cons
There's no "whiteout" feature or any equivalent tool so you need to rely on the "Edit Text" and "Edit Objects" tools to remove or clean some parts of your PDF document. These tools do well for simple implementations but I found it difficult to remove boxes, lines, shapes, bullets and tables.
I did not find any tool for extracting images from PDFs.
Discussion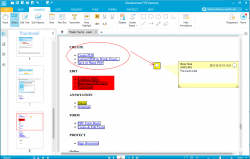 With PDFelement, you can choose to buy its PDFelement + OCR Plugin bundle for $89.94 or simply buy PDFelement alone with no OCR for $69.95 and then buy the OCR Plugin separately for $19.99. Do keep in mind that the registration for the said tool and its OCR plugin must be done separately.
On the other hand, the installation process for PDFelement is very easy, quick and straightforward with no bloatware or junkware included. So once you've successfully installed the said tool, you can either read its welcome guide first (to learn more about how it works and the techniques you can do to create and edit PDFs like a pro) or simply start testing out its features.
What I like about PDFelement is that it's easy to use and you can easily figure out what each tool does because they are properly labeled. I also like the fact that this premium PDF tool is feature-packed. You can actually create an entirely new PDF document from scratch as well as convert your other files or documents into PDFs. You can also do the opposite, which is saving and converting your PDF file into other document formats like Word, Excel, PowerPoint, HTML, ePub, etc.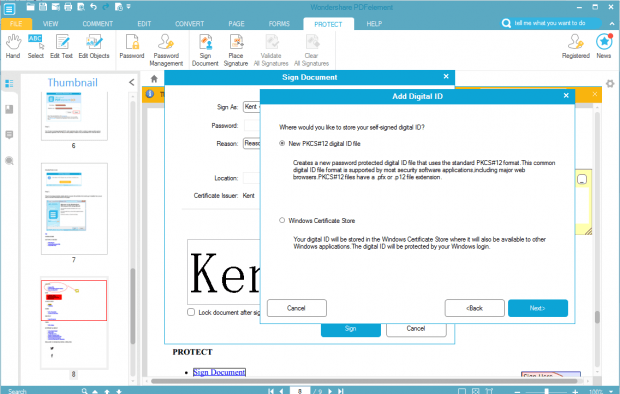 Another thing that I like about this tool is that you can digitally sign and verify your PDF document. You can even add stamps and watermark for added security. If that's not enough, you can also password-protect your PDF and restrict its permissions and user access.
That's not all. You can also edit and split each PDF page from a single file and save each as a different file. There's also the merge option which allows you to merge multiple PDFs into one.
Once you're done, it's very easy to send your PDF document to your Evernote, Dropbox or Google Drive account. You can even preview and print your PDF document directly from PDFelement.
Now, if your task often involves scanning documents and editing them as PDFs, you'll definitely find its OCR Plugin useful. With PDFelement + OCR, you can easily view and convert scanned documents into editable PDFs.
All in all, I can say that PDFelement is a very decent all-in-one PDF tool. Almost everything that you need to create, view, edit, manage and convert PDF files is present in this tool. I just find it a bit disappointing that I cannot use it to extract images and save them as separate files. This tool also made it difficult for me to get rid of certain elements from my PDF documents like those unnecessary shapes, boxes, bullets and lines.
Conclusion and Download Link
PDFelement together with its OCR Plugin is a good and reliable tool for creating, editing and converting PDFs. It is feature-packed but does need some improvements in certain aspects. What I like most about it is that it has almost everything that you need when it comes to processing PDF files – it's like a Swiss knife for PDFs and is definitely worth trying out. Speaking of which, don't expect too much from its Free Trial version because it's basically intended just to tease you of what the paid version can offer. I do, however, suggest that you only pay for this tool when you're constantly working with PDFs files for school, business or work. If your purpose is just to use it casually, there are a lot of good and free alternatives out there like AbleWord.
Price: Free Trial, PDFelement + OCR Plugin – $89.94, PDFelement only – $69.95, OCR Plugin only – $19.99
Version reviewed: 5.7.0
Supported OS: Windows XP, Vista, 7, 8, 10, Mac OS X 10.7 or later
Download size: PDFelement – 778KB/OCR Plugin – 189MB
VirusTotal malware scan results: 0/36
Is it portable? No
Wondershare PDFelement + OCR Homepage
Related Posts