Windows 10 is out and more and more people are already enjoying it. What makes Windows 10 popular is that it combines the best of Windows 7 and Windows 8, making it very easy to use.
If you are one of the users of Windows 10, there are some Windows 10 tips and tricks you should not miss. These include the following:
• Want to Use Maps When Offline? Save It with Windows 10!
It's one of the Windows 10 tips and tricks that is very useful not just on smartphones, but also on laptops and tablets. The best thing about Windows 10 is that it allows you to save maps to your device in case you lose data connection or Wi-Fi while you are trying to scout out a particular area. To save maps, go to Settings and choose the System and Offline maps for you to pick which maps to download. Every region also features an estimate of how much storage space will be needed. Then, you can use and launch the Maps anytime you want.
• Fix the Default App Associations
Default apps for particular file types are the one that open once you double-click on the file saved in that format. Windows 10 upgrade process may break several of these associations and the simplest way to get them back is through opening the Settings from your Start Menu and following System link. Go to the Default apps page and make some changes and reset file association back to the recommended options if necessary.
• Like Apple's Siri, Windows 10 Introduces Cortana
Cortana is known as the digital assistant of Microsoft. You can always turn on Cortana and make some changes in its settings by going to Start menu and use the search box or voice on the taskbar to run the Web queries, check weather forecast, set reminders, and much more.
• Analyze Your Hard Drive with Windows 10
Windows 10 also boasts its new interface to view the contents of your hard drive, which makes it much simpler and easier for you to know how all of such gigabytes are being used. To make the most of this Windows 10 tip, go to Settings, tap or click on System, choose Storage, and pick the drive you like to take a closer look. After this, there will be a screen that breaks up the used storage space into documents, music, pictures, email, videos, and more.
• Schedule Restarts with Windows 10 Anytime
If you are using Windows 10 Home version, you do not have a choice whether or not to install the updates as they are automatically applied to keep your computer up to date and safe. What you may do is to prevent your laptop or desktop from restarting automatically once updates arrive. The only thing you should do is to go to Settings, choose Update & Security, and choose Windows Update, which can be found on the left side of your screen. Choose Advanced options and use the drop down menu located at the screen's upper part to force Windows 10 to give you notifications before restarting.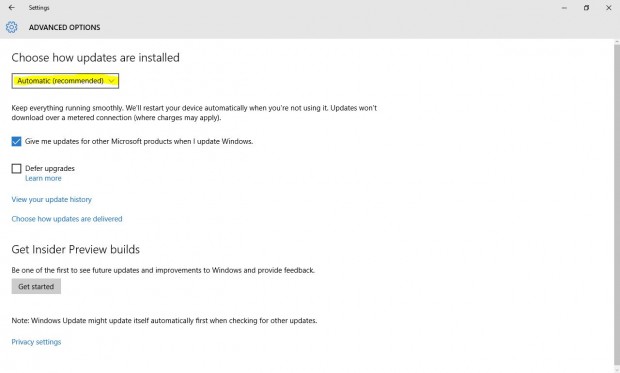 Related Posts