Windows 10 has been introduced with a variety of unique and extraordinary features and Cortana is one its best feature. Cortana is one of the most prominent new features of the Windows 10 but many of us do not know how to operate and what are the unique qualities Cortana has.
Cortana is compatible with many features and it has improved the experience of using Microsoft Windows 10. Here are a few tricks about Cortana you must know that will make you love your Windows 10 even more!
How to operate the special features of Cortana in Windows 10
Compatible with desktop:
In the beginning, Cortana was only compatible with smartphones but now with the hard work of the software engineers, it has been made compatible with the desktop and even the laptops.
It has changed the concept of using voice assistance only on smartphones because with the help of Cortana you can now control your desktop with only your voice. The icon of Cortana is present near the start menu and listens to all your commands and work on it the way you want it to.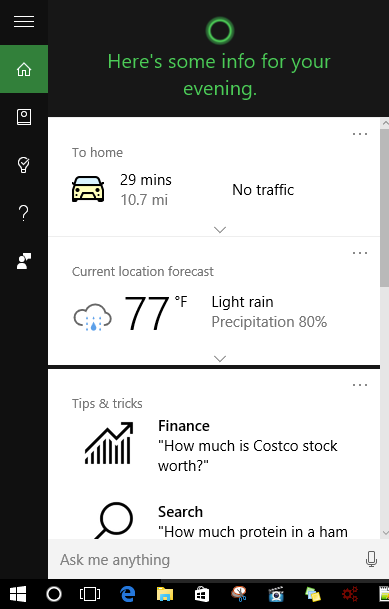 Voice recognition:
It is annoying when you are given a command and people shout and waste your time. However, there is no need to worry about such a trivial issue because Cortana is now featured with the voice recognition technology. With the voice recognition feature, Cortana will know about the vocal ranges of the one using it and can easily ignore the comments made by others to disturb you thus it will provide you with faster services.
Humorous Cortana:
Cortana is manufactured with a little humor. It is designed in a special way to make a little joke, sing songs and make fun while you are using it. It is designed with such perfection that you can ask her for her opinion and she will answer you perfectly. It will make fun and crack small jokes every now and then that will keep you relaxed and improve your productivity.
Natural language:
Cortana will provide you with a fast response when you search for a file or a document. For instance, if you want to find the images you saved in September simple ask Cortana to find the pictures from September and it will show you all the pictures you have saved in September. It is built-in the search feature of Cortana that makes it easy and fun to use.
Perform conversion and calculation:
Cortana has also given the feature of calculating and converting the mathematical values. All you have to do is provide the problem and it will calculate the answer for you. You do not have to say the numbers you can also type them in the search box of Cortana and it will do the calculations.
In the same way, Cortana can also perform conversions of the units and the currency.
Thus, we can say that Cortana is one of the extraordinary features of the Windows 10 that will make you enjoy your time while using it.
Related Posts