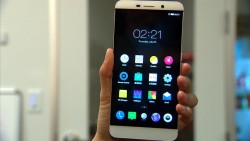 Everyone knows TWRP Recovery on the Letv Le 1 Pro smartphone is great for installing a custom ROM, installing a custom kernel and certain packages like the Google Gapps. What many people do not know, however, is that there is a good deal more to Team Win's Recovery Project than initially meets the eye. I'm talking about the cleverness and ingenuity to then allow us to do functions like wipe the data, apply factory resets, backup individual partitions at a time, restoring the data you backed up earlier, mounting partitions, and it even features its own file manager and terminal emulator.
To put that handiness into some perspective for you, there are many people out there today who are rooting Android operating systems and then heading over to the Google Play Store to do things like download the dedicated Terminal Emulator app on its own. On top of that, with or without root access, we have a great deal of people installing file managers such as the popular Astro File Manager app also available from the Google Play Store.
REQUIREMENTS
You must unlock the bootloader before flashing a custom recovery on your device if you have a device that has a bootloader that can be unlocked.
The custom recovery image you are about to find in this guide is prepared for the Letv Le 1 pro device only. Do not flash this file on any other device or else you will most likely brick the device.
BEFORE WE BEGIN
There isn't much you need to take care of before you begin this guide since we are using the TWRP Manager from the Google Play Store. Just make sure you have enough battery power on the device before you start flashing your custom recovery so that the device does not turn off during the flashing process.
HOW TO INSTALL TWRP RECOVERY ON LETV LE 1 PRO
Download the TWRP Manager for the Letv Le 1 Pro smartphone from here.
Install the TWRP manager application and then open your app from the app drawer.
Tap on the button that says 'Install TWRP'.
Scroll down the list of device names until you eventually get to your device.
Highlight the Letv Le 1 Pro smartphone from the list and then tap the button to start the installation.
In conclusion, that's all you need to install TWRP Recovery on the Letv Le 1 Pro smartphone using the TWRP manager from the Google Play Store. Anyone who does not have the Google Play Store application can download the TWRP file directly from here and install it that way instead.
Anyone hoping to continue the trend of customizing the device might be interested in finding out how to root the Letv Le 1 Pro smartphone running on the latest Android 5.1 Lollipop update.
Related Posts