Do you frequently extract the audio tracks from the video files? Need the original stream, or prefer to get it converted? Require multi-format support? Get full track, or the selected segment? Want audio to audio? Or you are a ringtone aficionado? Beginner or pro? No love for shareware? Work on a computer without admin privilege? If your answer is yes to one (or more) of the above questions, Pazera audio extractor may be a solution for you.
WHAT IS IT AND WHAT DOES IT DO
Main Functionality
Pazera audio extractor takes out the audio tracks from the video files. The good news is that this process may be customized. Audio to audio conversion is also possible.
Pros
Extracts the audio tracks from the video files (multi-formats) without any audio quality loss, or converts them to multi-formats
Universal audio converter
Ringtone maker (audio snippet)
Predefined settings (profiles) for novices (idiot-proof interface); advanced users may customize the audio encoding parameters
Extract/convert full audio track or the selected range only
Playback before any extraction/conversion
Freeware (both for private and commercial uses)
Truly portable (more on this later)
Fast enough
Plain user interface
Can save the encoder commands to a .bat file
Multi-language support
Cons
No Unicode support
No YouTube support
Discussion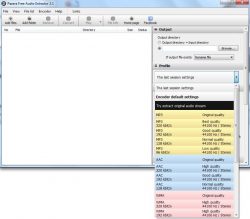 I always like simple user interface (rather than a gaudy, hard to comprehend one), and Pazera offers that. One major limitation with many freeware is that they are free for only private use. Pazera has given us this freebie both for the private and the commercial uses. You have the flexibility of extracting the audio tracks from the video files (almost any format you can think of) without any sound quality loss, or converting them to multi-formats. You may extract/convert full audio track or the range of your choice. You can universally convert one audio format to the other. I am happy to report that Pazera audio extractor can be used as a ringtone maker (audio snippet); you can make, say, an MP3 ringtone at the drop of a hat. If you are just a beginner in the world of audio editing, you may use the profiles (predefined settings as shown in the screenshot above); advanced users may play with the audio encoding parameters. You can play the file, and check to figure out what you want before the any extraction/conversion. The program feels fast enough for extraction/conversion.
Pazera audio extractor automatically writes its settings to the application folder (settings are stored in .ini files). When an application is launched, used and terminated correctly; it does not leave behind any entries in the registry or the file system, certain exceptions being allowed. This means stealth works. Hence, Pazera audio extractor is truly portable!
How to extract the audio tracks from the video files
Drag-n-drop the video files into the main window.
'Browse' to select 'Output directory'. 'If output file exists', choose 'Rename file' (recommended).
Select 'Profile' from the drop-down list. You have the options like 'The last session settings', 'Encoder default settings', 'Try extract original audio stream', and many different quality set ups.
For example, if you are interested in making an MP3 ringtone (audio clip), you choose 'Encoder default settings' from 'Profile'. In 'Audio', 'Output format' should be 'MP3', leave 'Bitrate', 'Sampling freq' and 'Channels' in the 'Auto' mode, don't touch 'Volume'. In 'Additional settings', check 'Start time offset' and 'End time offset', and put the desired values.
Click the 'Convert' button.
Input formats supported: AVI, MPG, WMV, MKV, MOV, FLV, RMVB, M2TS, VOB, MP4, 3GP, WEBM, DIVX, XVID, MPEG, MPE, ASF, M4V, QT, 3GPP, 3G2, 3GP2, MKA, SWF (uncompressed), F4V, F4P, F4A, F4B, DAT, RM, OGM, OGV, AMV, DVR-MS, MTS, WTV, WAV, MP3, AC3, AAC, MPC, MPA, MP2, WMA, FLAC, SHN, APE, OGG, M4A, WV, AMR, AIFF, VIDEO, M4R, MP4V, MP1, M4B, OGA, DTS, GSM, QCP, RA, VQF, THD, TRUEHD, TRUE-HD, DTSHD, DTS-HD, AVS
Output formats supported: MP3, AAC, WMA, OGG, M4A, AC3, FLAC, WAV
CONCLUSION AND DOWNLOAD LINK
I like Pazera audio extractor. I mean, I may not ask more for free as far as the custom audio extraction is concerned. Creating a ringtone from your favorite audio is painless using this easy-to-use program. I just wish this program could have YouTube support. This means if you would load a URL (uniform resource locator) from YouTube, the audio extraction would work, too.
Price: Free (both for private and commercial uses)
Version reviewed: 2.1 portable
Supported OS: Windows 7/8/Linux (under Wine) (Windows 10 support unknown)
Download size: 8.4 MB
VirusTotal malware scan results: 0/56
Is it portable? Yes
Pazera Audio Extractor homepage
Related Posts