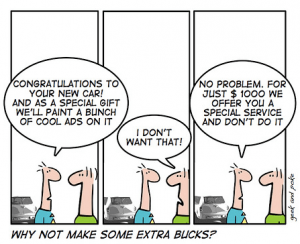 We all like freeware programs. What none of us like, however, are the third-party offers (such as toolbars) that come with many freeware programs. While I am not bashing on freeware developers for including third-party offers in their programs (freeware developers need some sort of revenue), I am saying that many users accidentally end up installing third-party programs – such as Ask Toolbar – because they are bundled in the installation of other programs. The only truely effective way to avoid installing undesired third-party programs is to keep your eyes open and read before simply clicking "Next" while installing a program. However, knowing beforehand that a program comes bundled with a third-party offer can help in avoiding accidental installation of undesired software.
Image Credit: Geek&Poke
We all know about Softpedia; it is a program hosting website that allows users to download programs. One of the cool things about Softpedia is the fact that they have two separate categorization for free programs:
Ad-Supported

"Ad-Supported" programs are free programs that

Display ad banners or other types of advertising material during its runtime;
Offer to change the homepage for web browsers installed in the system;
Offer to change the default search engine for web browsers installed in the system;
Offer to download or install software or components (such as browser toolbars) that the program does not require to fully function;
Offers to create desktop or start menu shortcuts for items unrelated to the program's functionality;
At program startup/shutdown, opens web pages featuring advertising or similar income generating content.
Whenever a free program is "ad-supported", Softpedia explicitly lists it as such: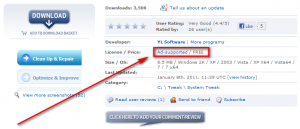 (Take note that shareware programs that are "ad-supported" are not marked as such – they are listed as "Trial", "Demo", or something along those lines. "Ad-supported" is only for free programs.) Update: It has been brought to my attention even shareware programs are marked as "ad-supported" if they are, well, ad-supported.

Freeware programs that are not ad-supported are marked as "Freeware" (or some other special freeware types such as GPL, Donationware, etc.):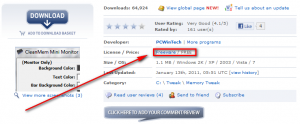 While Softpedia does not strip any third-party programs from "ad-supported" free programs, because this distinct categorization users can easily identify freeware programs that are "ad-supported" and prepare themselves to not install any third-party offers that may come with the program. So, moral of the story? Whenever there is a Softpedia download mirror available, download from Softpedia to be best aware of any potential third-party bundles that may come with the program you are downloading.
Feel free to share in the comments below any tips you may have on how to avoid third-party bundles.
Related Posts