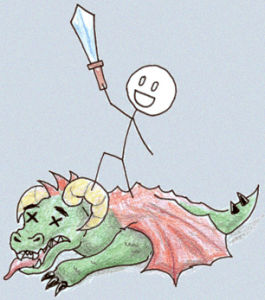 Mirror, mirror on the wall: What is the best file sharing/backup service of them all? Dropbox. All free Dropbox accounts come with 2 GB of storage space. Last November I posted about how to increase that 2 GB of storage space by 50%. Want more free Dropbox storage space? Participate in Dropquest 2011.
Dropquest 2011 is a 30-step scavenger hunt sponsored by Dropbox. Everyone who completes the scavenger hunt gets 1 GB of extra free space; people who complete it the quickest get more goodies:
Platinum: (1) Dropbox hoodie (Psychobox), LIMITED EDITION Dropbox Hack Week t-shirt (actual design), Dropbox drawing signed by the Dropbox team, 50 GB for life!
Gold: (10) Dropbox hoodie (Psychobox), Dropbox print signed by the Dropbox team, 10 GB for life!
Silver: (20) Dropbox t-shirt (Psychobox), 5 GB for life!
Bronze: (50) 2 GB for life!
…and a few secret prizes too!
(By "quickest" Dropbox means the people who complete it the earliest. In other words, if you are starting Dropquest 2011 after reading this thread you have no chance of winning the special prizes. Just go for the 1 GB.)
Be warned that the scavenger hunt isn't exactly a walk in the park; it is 30-steps and can be a bit confusing/tricky. However, the scavenger hunt started yesterday, so by now there are many step-by-step guides one can use, if you are too lazy to try to do the scavenger hunt yourself. (Aka you can cheat.) How ever you decide to do it, hit up the link below to begin Dropquest 2011. Be sure to do each step in the scavenger hunt because completing each step gives you X MB of space; completing all 30 steps gives you a total of 1 GB.
Dropquest 2011 is open for two weeks – it will close Saturday January 29, 2011 11:00 AM PST (7:00 PM GMT).
Related Posts