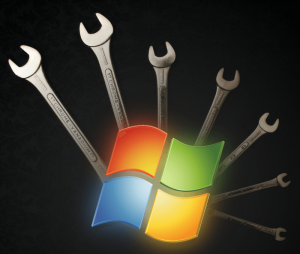 Are you happy with your computer? Are there certain tweaks you could use to make it better? There are several programs you can try. Although CCleaner and the like immediately step into mind, there are good, lesser known pieces of software. TweakNow PowerPack 2011 is one of those programs: easy on the surface, with more and more as you go deeper.
Image credit: Ildar Sagdejev & Tim K.
Introduction
TweakNow PowerPack 2011 is a simple, powerful tweaker designed for Windows Vista, 7, and XP.  It offers both basic cleaning and tweaking for users of any level.  On TweakNow's website, they say:
TweakNow PowerPack is a fully-integrated suite of utilities that lets you fine-tune every aspect of your computer's operating system and Web browser. […] For Windows tweaking lovers, the suite provides more than 100 hidden Windows settings in the Windows Secret section. Using modules included in this section, you can easily customize your Windows like geeks do. The Virtual Desktop module lets you run as many as four custom-designed desktop configurations simultaneously, allowing you to tailor your computer screen to your mood and your work requirements.
If the tweaks sound good, you're in luck: after going through a standard installer, you'll be set to start tweaking.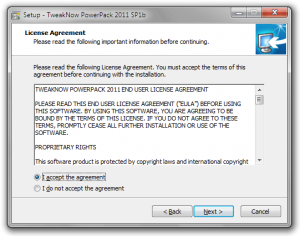 Cleaning up Windows
After installation, you'll be greeted by a spartan, useful interface that means business.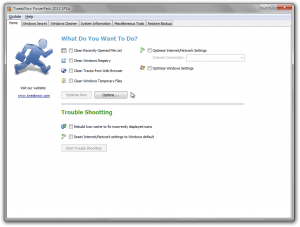 To get started cleaning, just select what you want to do–clean the recent files list, the registry, your browser traces, or temp files–and click Optimize.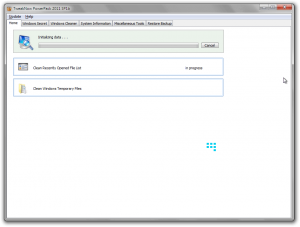 Once it's done scanning, click View Results. This will show you everything you can remove:
Once you've verified you want to clean it, just hit Optimize Now in the top right. Instantly, your computer will be cleaner!
More than just cleaning: tweak like crazy
However, cleaning is just the top of the iceberg.  Under the second tab, Windows Secret, you'll find new things like a Control Panel applet hider….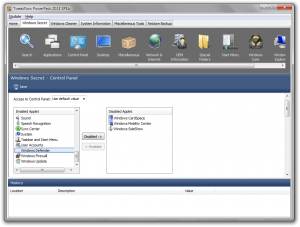 …options to disallow access to things like the Registry, the Command Prompt, or batch files…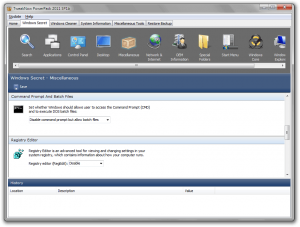 …even a handy reference list to where things like the Fonts folder or user accounts are located.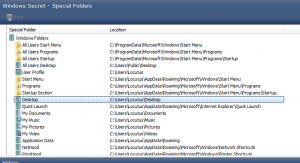 Features, features, features: get more for less!
You can also use PowerPack 2011 to generate a System Information report including information on your CPU, your networks, your Windows Version, your hard drive, and more: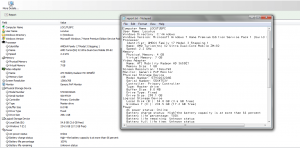 Yet another feature of PowerPack 2011 is to automatically shut down your computer after a set period of time.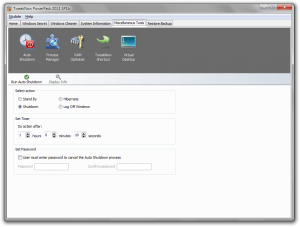 If, say, you're giving a presentation and need to leave the computer after the presentation, you can just set the timer into the future and have it shut down when you finish.
PowerPack 2011 also allows you to have a multi-desktop setup much like Spaces on OS X, Virtual Desktops on Ubuntu, or Dextop on Windows.  When activated, it leaves a small icon in the system tray. When you right click it and select Show, it takes you to a small desktop switcher designed to be unintrusive: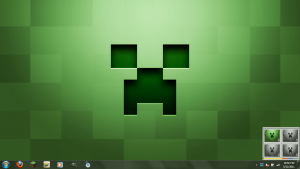 You can also set up keyboard shortcuts like Ctrl+Alt+1 for moving to each Desktop.
Conclusion
The features featured were just the tip of the iceberg: TweakNow PowerPack 2011 has more to it than can be looked at in just a few words, and is really worth a try by itself.  It's all well-thought out and unobtrusively designed, and every thing works well.
Version reviewed:  2011 v3.2.2

License: Freeware

OS Supported: Windows 7/Vista/XP

Home page | Download link (8.8 MB)
Related Posts