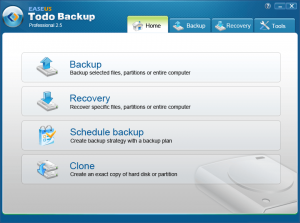 Earlier this week dotTech featured EASEUS Partition Master Professional in a giveaway. Now, we bring you another EASEUS product: EASEUS Todo Backup Professional!
Software Description
The following is a description of EASEUS Todo Backup Professional, as per the developer:
Backup
Image disk & partition
File and folder backup
Automatic backups
Save PC to safe place – FTP, CD/DVD, Network
Disaster Recovery
Easy PC recovery, get your system up in time
Quick file recovery
Explore backup contents & selective restore
Tools & Manager
Disk clone
Partition clone
Data wipe
Backup management
Features Details
Disk and Partition Image

Backup entire disk(s) or partition(s) to image. With this feature, you can back up the entire system and installed applications on the fly without interrupting the work. It ensures the instant recovery of your PC instead of reinstalling Windows and software.

File and Folder Backup

Make a copy of specified files and folders or by file types to secure your individual data, including documents, pictures, music, emails, applications, videos and financial files, etc.

Disk and File Incremental Backup

In addition to full backups, EASEUS Todo Backup Professional also offers incremental backups for users to back up files, disks or partitions. Incremental backups will save your disk space and time by only making a copy of changed files since last backup.

Backup Schedule

Automatically run backup plans at preset time or upon certain event such as on system startup or shutdown, on user log on or user log off.

Backup Management

By Managing backup tasks and plans, you can change a backup task or plan and execute the changes immediately, delete image files, and even convert a disk image to .VMDK (VMware virtual disk format) or .VHD (for Virtual PC ) and then mount into a virtual machine directly.

Disaster Recovery

EASEUS Todo Backup Professional enables you to restore important files from backed up image and perform disaster recovery just by simple clicks. It ensures quick recovery from system crash, a personal error, hardware or software failure, virus attack or hacker's intrusive destruction, etc.

Mount and Unmount

Mount a disk and partition image to a virtual partition (working as ordinary, logical drives) to explore or copy files in it. A drive letter can be assigned to this partition. You can also unmount the virtual partition.

Disk and Partition Clone

Migrate or copy all the data on a hard disk or partition to another. Clone disk is especially useful to upgrade your hard drive to a new one without reinstalling operating systems and applications

Delete old images to save disk space

Automatically delete/overwrite old images to save disk space according to your own time-setting.

Wipe Data

With this feature, you can erase all the sensitive data on a disk or partition to protect your privacy.

Image Compression

Compress a backup image to save disk space. The higher compression level, the smaller image is.

Email Notification

Notify administrator with the results of backup operations via email.

Set Priority

Change the priority of a backup process to make it run faster or slower. The performance of other programs will be adversely affected.

Commands

Execute pre-defined commands (scripts) before or after a scheduled backup, such as set to shutdown computer after backup.

Password

Set a password to protect your image file and prevent other persons to access the backed up files. The highest encryption standard (256 bit AES) is available in EASEUS Todo Backup.

Bootable Media

Run EASEUS Todo Backup from an emergency disk to perform recovery in case of system crash, etc. USB drive, CD or DVD Bootable media can be created.

Check Image

Check the integrate of backup image. You can validate whether you will be able to recover from the backup image.

Explore backup image file

Explore, copy and restore files and folders directly from a backup image in Windows Explorer.

Schedule Backup Ongoing Indicator

Timely notify whether your schedule is ongoing, and allow manually cancel the schedule.
dotTech Advice
Back in 2009, when EASUES Todo Backup was first released (at that time it only had a free Home edition), dotTech did a review on EASEUS Todo Backup; we also compared EASEUS Todo Backup to other popular backup utilities and covered it when EASEUS Todo Backup v2 was released.
Overall, my general feeling for EASEUS Todo Backup is that it is a "good underdog". In other words, there are definitely better backup utilities out there and EASEUS Todo Backup still has areas it can improve in, but overall EASEUS Todo Backup is a really nice tool for being the new kid on the block. In my book, I wouldn't rank Todo Backup at the very top but it would definitely give the industry leaders a run for their money.
That said, EASEUS Todo Backup Professional ($29.00) simply builds upon EASEUS Todo Backup Home (Free), expanding the features offered to users. The following chart describes the differences between the two editions: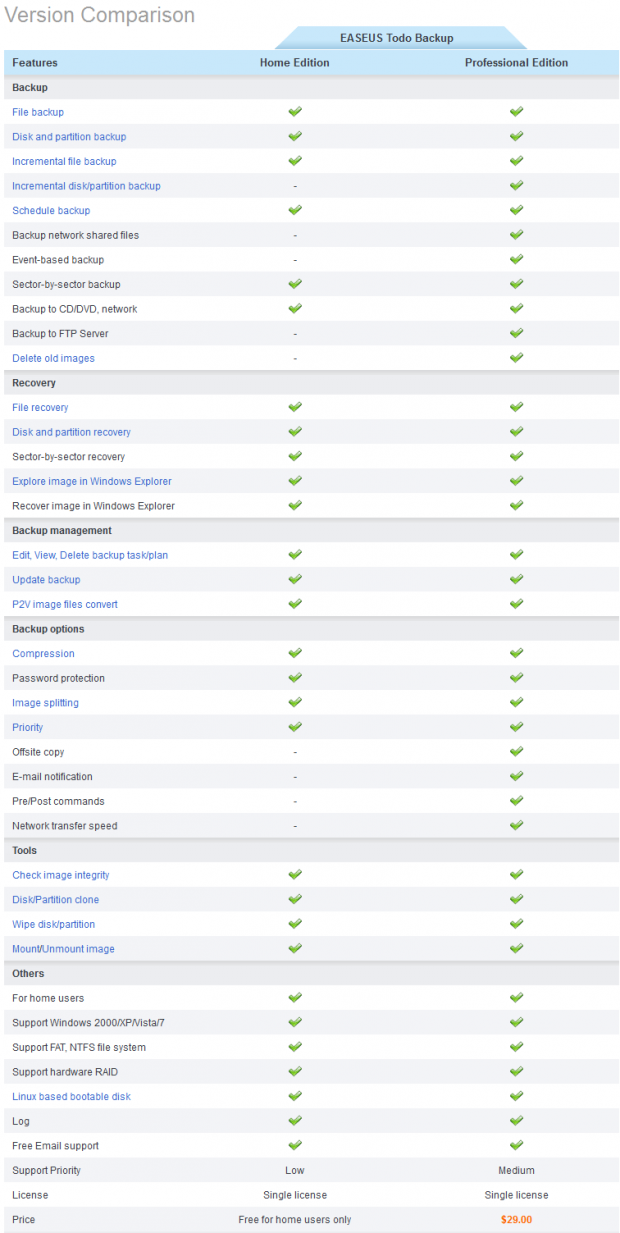 (Click on the image shown above to view it in full size.)
To sum up my advice in one sentence: If you find yourself lacking an image-level/sector-level backup utility or are unhappy with what you have currently, give EASEUS Todo Backup Professional a try. As I mentioned earlier, Todo Backup does well in challenging the likes of Acronis, so you may find yourself pleasantly surprised with this program.
Freebie Details
As previously mentioned, typically EASEUS Todo Backup Professional would cost $29.00. However, for a limited time dotTechies can get it for free!
As with the earlier EASEUS Partition Master Professional promotion, there is no set deadline for when this promotion will end, but rest assured it will end sooner rather than later. So grab this while you still can. While this freebie does not come with free updates, you are allowed to install/reinstall it whenever you want as long as you download it right now.
To get EASEUS Todo Backup Professional for free, simply download download and install it from any of the links below. The program comes "pre-registered" so there is no need to register it.
Version being given out for free: v2.5
Free updates: No
Supported OS: Windows 2000/XP/Vista/Win7 (32-bit and 64-bit)
Download size: About 70 MB
Giveaway time-frame: This giveaway is available for a limited time. After this giveaway is over, you will not be able to grab EASEUS Todo Backup Professional for free from dotTech. You can, however, install/reinstall the program whenever you want if you download it during the giveaway time-frame.
Note: This promotion is available to everyone – everyone may get it for free. However, this is a dotTech.org promotion. Please do not upload the installation file to any other website, server, file hosting services, etc. and please do not directly link to the download. If you want to spread information about this offer, you may link to this article by providing a permalink (alternative permalink) to your audience. If you respect our wishes, we will be able to continue to bring you great freebies. If you don't, we have no incentive to continue our promotions and they may stop.
[EASEUS Todo Backup Professional Edition v2.5 Giveaway Download Link]
[Download Mirror 1]
Related Posts