There are a variety of free office suites out there – both online and as software. These freebies usually fall in one of these three categories:
Free shareware software as a giveaway
Open source software
Freeware
The software dotTechie "Amnesia" (thx Amnesia!) brings to us today is shareware-gone-freeware. In other words, it used to be shareware (which was available as a freebie multiple times in the past) but now is a permanent freebie, which I am considering to be freeware. Take note that the developer does not explicitly say "freeware" but does say this program is available for free "permanently". The best part is there are no mentioned restrictions for home or business use (i.e. it does not say for home use only).
Whatever you want to call it, keep in mind this used to be a shareware program; that is most important to remember. Oh wait, did I forget to mention the name of the software? My bad. I present [dramatic pause]… Softmaker Office 2008!
SoftMaker Office has many functions of the correspondent programs from MS Office, OpenOffice.org or WordPerfect Office and also adds features such as its ability to run off USB flash drives and integrated reference works. It uses not only its own native formats, but is also highly compatible with Microsoft Office file formats. It can read and write Microsoft Office file formats as well as OpenDocument Format (word processor only), RTF and HTML. Export to PDF function is included. Multi-language spell-checking, hyphenation and thesaurus is supported; furthermore an integrated five-language translation dictionary (English, German, French, Italian, and Spanish).
The user interface is based on Microsoft Office's look and feel.
According to the developer's website, Softmaker Office 2008 consists of three programs:
TextMaker

Word processor

The Microsoft Word compatible word processor that's so easy to use that you'll begin to wonder why you struggled with Microsoft Word for so long.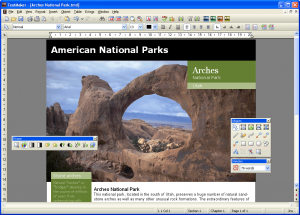 PlanMaker

Spreadsheet

The Microsoft Excel compatible spreadsheet that opens and saves all your Excel workbooks and comes with many time-saving functions.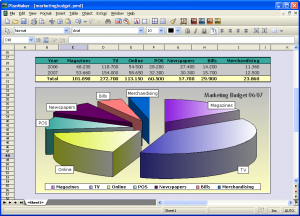 SoftMaker Presentations

Presentation graphics

The presentation-graphics program that not only lets you access all your PowerPoint files, but also makes your life easier with many additional features.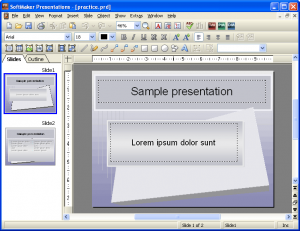 Editor's note: Although SoftMaker claims SoftMaker Office is compatible with Microsoft Office products, take not it not compatible with Office 2007 version of files. In other words, it will work with .DOC/.PPT/.XLS but will not work with .DOCX/.PPTX/.XLSX.
My Personal Opinion
Now I'm going to come out as quite honest and tell you that I have never used this product, never intend to use this product, or ever thought about using this product.
Why? It's because I personally dont know the potentiality for this product. I have been in love with Microsoft Office since the first day I got Microsoft Office on my little computer. However, I did help my sister in getting used to OpenOffice and I do carry OpenOffice on my flashdrive in case of an emergency. To me Softmaker Office 2008 sounds a bit outdated since the 2010 version is being sold for $80 bucks or so.
Don't get me wrong: I dont want to scare anyone who thinks that this is a great product, because it is a GREAT product. It's just that when you balance this to other freeware – like OpenOffice – this doesn't seem as good.

Here are details to SoftMaker Office and other freeware office utilities so you can test them out and make up your own mind:

SoftMaker Office 2008
Product page: http://www.softmakeroffice.com/
Download/registration page: http://www.softmakeroffice.com/register_en.htm
Note: There is a Windows and Linux version
Alternatives
[Not a freeware, but as you all know Microsoft Office for students which is cheap]
Online Office Suites
Thank All!
This is a Community Content article. It has been contributed to dotTech by prema23. Contribute your own article to dotTech by clicking here.
Related Posts