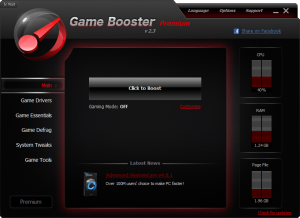 Update: This promotion is now over. Sorry to those that missed it! To avoid missing promotions in the future, consider subscribing to dotTech: RSS Feed | E-mail | Twitter | Facebook.
Missed out on Game Booster Premium 2 back in February? Today must be your lucky today. For the next 24-hours, dotTech is teaming up with IObit – the developer behind the famous Advanced SystemCare – to bring everyone Game Booster Premium 2 for free!
Software Description
The following is a description of Game Booster Premium 2, as per the developer: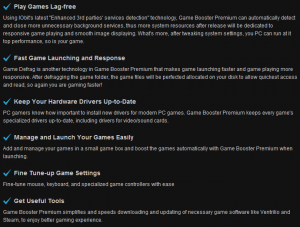 (Click on the image to view it in full size.)
dotTech Advice
Back in September of '09, a dotTechie that goes by the name of Kinetix did a review of Game Booster (v1.22, Free Edition). Kinetix's conclusion was the following:
All in all, I believe it to be a very useful program, especially if you have Vista (or XP) as your Operating System and less than satisfactory equipment in your computer rig. Even if your computer is up to snuff, sometimes games are just too much to handle. For example, I have The Elder Scrolls IV: Oblivion on my computer, and I love loading it up with dozens upon dozens of mods. After a while, this can start slowing down the game a bit (especially on Vista). I searched around and found Game Booster, and most of that extra lag caused by the mods went away. It works well, I recommend you give it a try.
I myself have used Game Booster and I agree with Kinetix. While Game Booster cannot and will not turn your low-end machine into a high-end monster, Game Booster does allow you to better allocate your computer resources towards playing your game(s). In other words, Game Booster helps clear much of the overhead that wastes valuable computer resources.
Of course Kinetix's conclusion mentioned above is almost two years old and was based on what is now an old version of Game Booster. Game Booster is now v2, which has improvements over v1; and this freebie is of Game Booster Premium, which has more features than Game Booster Free. So it is safe to say Game Booster is still a winner for those who feel their machines aren't up-to-task when playing games.
That said, I definitely recommend Game Booster Premium for gamers or even people that don't necessarily game but use their computer for resource-heavy tasks such as image editing and video watching. However, before you go and grab Game Booster Premium, take a look at the following chart that outlines the differences between Game Booster Premium and Game Booster Free so you understand exactly what you are gaining by taking part in this freebie: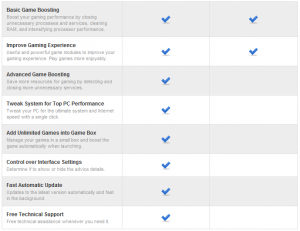 Freebie Details
For the next 24-hours, everyone can get Game Booster Premium 2 for free! This freebie comes with free updates and users can install/reinstall whenever they want.
Before I tell you how to get Game Booster Premium 2 for free, I would like to let everyone know IObit request users "Like" their Facebook fanpage if they appreciate this giveaway. Liking the fanpage is not a requirement for this freebie; it is just a way to show your thanks to them. If you are a Facebook user and you would like to show your thanks to IObit, go and "Like" their fanpage. If you are not a Facebook users, don't worry about it.
To get Game Booster Premium 2 for free, follow these simple directions:
Version being given out for free: v2.3
Free updates: Yes
Free technical support: Yes
Supported OS: Windows XP and higher
Download size: 6.8 MB
Giveaway time-frame: This giveaway starts 00:00 PST Wednesday May 8, 2011 and ends 24:00 PST Wednesday May 8, 2011. After this 24-hour window, you will not be able to get Game Booster Premium 2 for free from dotTech. However, if you take part in this freebie now, you can install/reinstall the program whenever you want.
Download and install Game Booster Premium 2.

Take note of two things during installation. Firstly, Game Booster Premium 2 comes bundled with IObit Toolbar (powered by Yahoo). During installation Game Booster Premium 2 asks you to install IObit Toolbar and make Yahoo your default search engine. These two options are preselected, so make sure to deselect them if you don't want the toolbar/search engine. Secondly, Game Booster Premium 2 asks you if you want to download and install other IObit products (Advanced SystemCare, Security 360, and Smart Defrag). The options to download and install these three software are preselected; make sure to deselect them if you don't want these three products.

Unzip the ZIP file and open the text file that is inside.
Copy the license code found in the text file.
Run Game Booster Premium 2 and register it the license code copied from the text file: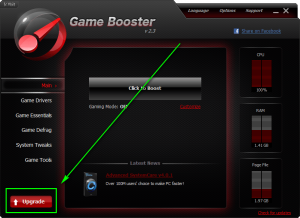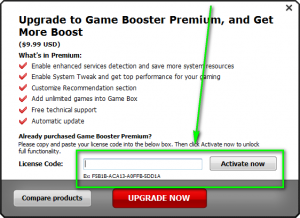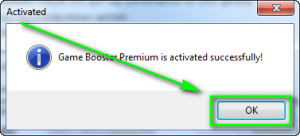 If you have trouble getting Game Booster Premium 2 for free, post below and other dotTechies or I will try to help.
Related Posts