Software Description
PDF to Word conversions are tough to get accurate. Investintech has taken their own shot at the game and come up with Able2Doc, which they describe as this:
Able2Doc 6.0 performs fast and accurate conversions to MS Word and Open Office Writer with columns, tables, headers, footers, graphics and layout reproduced just as they were in the original document. Maximum editability is ensured!

Able2Doc 6.0 delivers the quick accurate transfer of PDFs into editable MS Word for editing, analysis or other reversioning. Use it to:

Edit Text: Once converted into Word, PDF text can be edited and repurposed as required.

Preserve Formatting and Layout: The look and feel of the PDF is replicated in Word

Convert into Word Forms: Native PDF forms can be transferred and filed out as Word forms.
Note that Able2Doc requires Microsoft Office or OpenOffice to be installed.
dotTech Advice
This is actually a really cool piece of software! If you're ever in need of a PDF to Word conversion, this is really what you want. It works well! If you miss this freebie, however, Ashraf still highly recommends AnyBizSoft's PDF to Word.
Freebie Details
Version being given out for free: v6.0
Free updates: unknown
Supported OS: Windows 98+
Download size: 6.5MB
Giveaway time frame: unknown
Reinstalls: unknown
Instructions
To get this freebie, you'll have to head over to Facebook. Once on Facebook, go to InvestInTech's fan page and Like them. From there, go to the Giveaway tab on the side:


On this giveaway tab, you'll see your special code and a link to the page to enter it on.
On the entry page, paste your code and hit download. Then install the program like normal.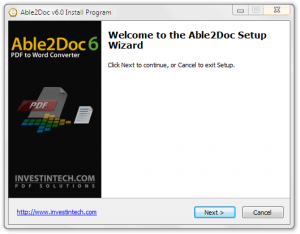 On about the second or third screen, there is an optional registration–you don't have to fill it out.
Results
A note about the giveaway version of Able2Doc is that on every start, it will advertise the Pro version, which features optical character recognition: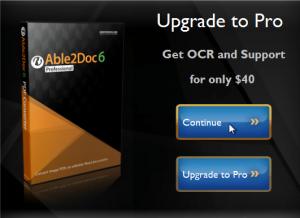 Able2Doc performed fairly well in samples performed. Each conversion took only seconds, and came out with most formatting preserved, as you can see for yourself in these demos. Able2Doc performed as well as other competitors:
Related Posts