Software Description
The following is a description of USB Safely Remove, as per the developer:
USB Safely Remove is a USB device manager. It saves time and extends user abilities on active work with flash drives, portable drives, card readers and other gadgets.

A handy menu to stop devices

The main disadvantage of using the built-in Windows safe removal tool is that when using several hot-plug devices it is often quite difficult to recognize which device needs to be stopped. Most devices have the same name: "USB mass storage device". In addition, Windows does not let you hide a device you would not want to stop from the menu.

USB Safely Remove saves you from these problems and offers an original and multifunctional stopping menu, which displays actual device names with icons. Using this menu you can find and stop a device in a snap!

Also, this menu allows you to:

Rename a device
Change a device image
Hide a device from the menu
Scan for hardware changes
Stop all devices at once

The device cannot be stopped right now. Why?

Ever encountered the situation when Windows does not allow you to remove a device? Unlike Windows, USB Safely Remove will show you the programs which prevent the device from being stopped and let you close these programs or just the files they opened on the device.

Keyboard shortcuts to safe removal

Like to do everything using the keyboard? Now you can stop and view devices with only ONE hotkey! No need to remember keyboard shortcuts for each device. Being in any application, press the key combination (Win+S by default) and you will see the stop menu. Use the Up\Down Arrow keys to select the device you need and either press Enter to stop it or Ctrl B to view the contents of a device disk. Also you can assign a dedicated hotkey to stop a certain device.

Program autorun on device connection\disconnection

Another USB Safely Remove feature that distinguishes it from similar software is starting any applications not only after connecting a device, but also beforeremoving it. The autorun feature allows you to set up data backup before disconnecting a removable hard drive, to run Total Commander with the contents of the pen-drive, automatically unmount an encrypted TrueCrypt drive before disconnecting the USB media, etc.

Command line to safe removal

USB Safely Remove has a powerful and convenient command line: usr.exe. It allows you to automate work with devices. For example, you can automatically stop devices according to schedule or in case of any other event. In addition the command line tool of "USB Safely Remove" allows to "return device back".

Working with any hot-plug devices – USB, SATA, FireWire, PCMCIA

Another important difference between the program and the standard Safely Remove Hardware icon is the possibility to see and stop any kinds of hotplug devices. If USB Safely Remove does not display the device you need, try enabling the "Display all storage devices" checkbox in the program options.

Stopping via "disabling"

Some kinds of external devices (e.g. SATA drives from Silicon Image), are true hot-plug devices. However, their drivers do not support the "safe removal" function. Such devices are not displayed in the native safe removal tool and can be stopped only via disabling in the Device Manager. It is a tiresome way, because it requires many actions to do, moreover you must enable the device manually after you connect it next time.

Not only does USB Safely Remove allow you to stop such devices, it also detects automatically what devices must be "safely removed" and which devices must be "disabled." Also, the program enables the "disabled" device automatically on its next connection, thus it makes working with the device absolutely the same as with a usual device.

Ejecting memory cards rather than the card reader

If you had safely removed a card reader, you would need to physically reconnect it in order to make it work with cards again (or to use "Return device back" feature of the program). In the case of two or more memory cards connected to the card reader at the same time, they all become unavailable in the system after you stop the card reader. USB Safely Remove lets you eject memory cards one-by-one. Moreover, if the memory card was locked by any processes, the program would display these "locking" processes as well as it does on failure to stop a whole device.

Hiding drives of empty card reader slots

Do you have a card reader with several slots? If you said "yes", you would likely use only one memory card at a time, however your card reader creates up to four drives in your system. It may be annoying because you are required to spend more time finding the memory card drive among other "empty" card reader drives.

USB Safely Remove rids you of this problem – the program can hide "empty" card reader drives automatically!

Return Device Back!

After you had stopped the device, but still did not unplug it, sometimes it is quite useful to return it back into the system. For example if you remembered that you forgot to write a file to the external drive. In order to do it, you have to physically reconnect the device, however sometimes it's quite inconvenient to do, e.g. if the device is connected to the rear panel of the computer.

USB Safely Remove is the first Windows program that allows you to return stopped device back!

Power off drives on stopping in Vista & Win 7

When you safely remove the device in Windows XP it powers the device off – in the case of a flash drive its led was switched off and in the case of a portable hard drive it was spun down. But Microsoft changed this behavior in Vista and it still exists in Win 7: after you stop the device on these OSes the hard drive continue spinning and flash drive continue lighting. All modern hard drives park theirs heads automatically when you unplug them so in theory this behavior shouldn't lead to loss data or damaged drives. But in practice the hard drive usually sound strangely when you unplug them on run and this makes a hard drive owner being a bit nervous when he hears that :)
USB Safely Remove can change this behavior and make the system power down USB ports. In order to enable this feature just answer "Yes, please" when USB Safely Remove suggests you to enable it.

Other optional features:

System tray icon hiding when there are no devices to be stopped
Displaying volume labels instead of device names
Let you manage drive letters
Ability to mount storage devices as a NTFS folder
Exploring device drives in an alternative file manager (e.g. Total Commander)
Let you prevent Windows from assigning specified drive letters to hot-plug devices
dotTech Advice
USB Safely Remove is a brilliant program for managing plug and play devices. It picks up where Windows native manager ends. While one won't die if they don't have USB Safely Remove, it is definitely one of those "niceties" that makes one appreciate life a bit more.
That said, however, if you are only the occasional user of USB devices (and other plug and play devices, such as Firewire), I feel USB Safely Remove is not for you. Afterall, if you rarely use USB devices, such as a flash drive, learning a whole new program – especially one with so many features as USB Safely Remove – is not worth the effort. Windows native manager may be crap but its good enough for the occasional use. If, however, you are a gadget junkie then you should jump upon this freebie while you still can.
Freebie Details
Typically USB Safely Remove would cost you $19.90 (USD). However, until August 12, 2011 24:00 PST, everyone can get USB Safely Remove (v4.7 – the latest version) for free! To get USB Safely Remove for free, follow these simple directions:
Version being given out for free: v4.7
Free updates: No
Supported OS: Windows 2000 and higher
Download size: 4.0 MB
Giveaway time-frame: This giveaway ends August 12, 2011 24:00 PST. There is no information on if you will be able to install/reinstall the program after this date; however, I believe you should be able to because this is a "lifetime" license.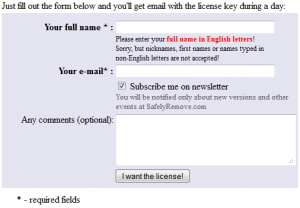 Check the inbox of the e-mail address you registered with. Look for an e-mail from USB Safely Remove support@safelyremove.com. The e-mail will contain the registration details you must use to register USB Safely Remove:

Download and install USB Safely Remove.
After installation, run USB Safely Remove and register it with the registration information provided to you via e-mail: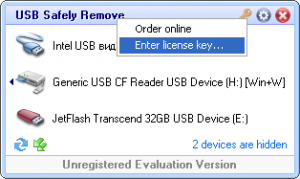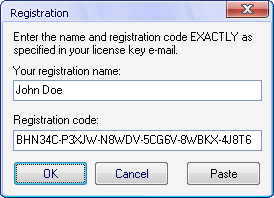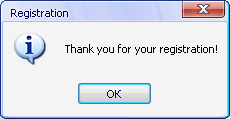 If you have any trouble getting USB Safely Remove for free, post below and other dotTechies or I will try to help.
Related Posts