UPDATE 8/3/09: There is a new version of Ashampoo Burning Studio 2009 out. Please visit http://dottech.org/freebies/7914 for more information.
NOTE: Originally this post was about how to attain Ashampoo Burning Studio 2009 from Computerbild.de for free. However, with VNUNET.com now also offering it for free, I changed it around to the new source since it is English as opposed to German.
What is Ashampoo Burning Studio 2009? It is a disc burning suite. The following are all the features of Ashampoo Burning Studio 2009:
Burn and update data discs
Burn data to discs and update previously burned discs by adding and removing files and folders.
Back up your data to single or multiple discs
Back up your valuable data to one or more discs. Single backups can span multiple discs. Restore your backups in a single easy operation.
Rip and burn audio
Rip audio from CDs and burn to audio CDs and MP3 discs on CD, DVD and Blu-ray in a variety of formats.
Burn movies to DVDs and data discs
You can burn video DVDs, Video CDs (VCD), Super Video CDs (SVCD) and data video discs.
Copy CDs, DVDs and Blu-ray discs
Just insert a disc, select Copy and you're ready to burn.
Create and burn disc images
You can both create and burn ISO, CUE/BIN and Ashampoo's own special ASHDISC image formats.
Erase rewriteable discs
Quick and easy erase functions for reusing rewriteable discs.
Expert burn functions for full control
Burning experts can create modified copies of existing discs (read in data structure and make changes and additions) and burn discs of all kinds with full control of all main configuration options.
Label Designer
Point-and-click label design
Ready-to-use themes – just enter your title data
Import track data from your disc
Design and create:

Disc labels
Booklets
Covers for jewel cases, slim cases, DVD and Blu-ray cases

Add your own backgrounds, text objects, images and data tables
Fast alignment and editing tools for images and text
That information is just what developer has to say about the software. Studio 2009 = Studio 8 more or less (only a few rare differences)
In order to get Ashampoo Burning Studio 2009 for free, first you must visit VNUNet.com and download it.
Once you download it, install the program. During the installation process, a few windows in, you will come upon this window: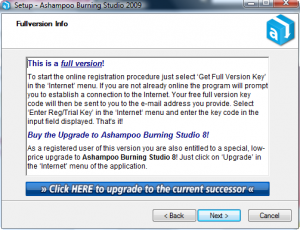 Hit "Next" and you will come upon this: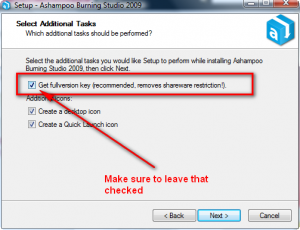 As the screenshot says, make sure to leave "Get full version key…" checked. Hit "Next" and finish the installation. After the installation is done, a webpage should open up that takes you to ashampoo's website where you must 'register' by giving them your email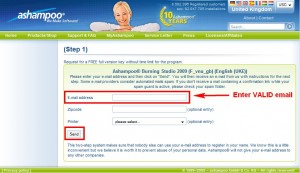 Hotmail is not supported for some reason. Also, I suggest you use a spam email because Ashampoo spams.
After you have done that, check your email (the one that you entered) for an email from Ashampoo. You will actually get two emails. The one we are interested in is from "Ashampoo <MrReg@ashampoo.com>" with the subject line of "Your registration – Ashampoo® Burning Studio 2009 (F_vnu_gb) (English (UK£))". If you can't find it, be sure to check your Junk MailBox. It will contain the registration code for Ashampoo Burning Studio 2009. Copy this code: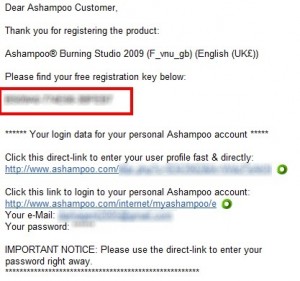 Run Ashampoo Burning Studio 2009. You should be promoted with this window (if you are not, go to Help -> Register):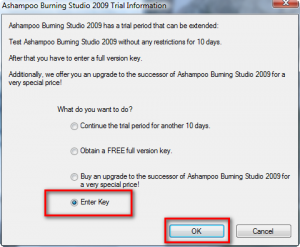 Select "Enter Key", hit "OK". Paste your key in the window that pops up and hit "Register":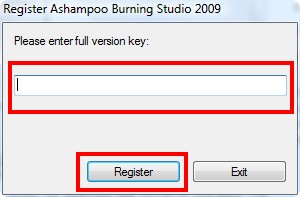 If you get the following message box after you hit "Register" you are good to go: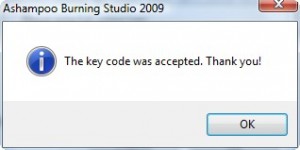 You now own a full version of Ashampoo Burning Studio 2009! If you have any problems with this, feel free to ask. I will assist if I can.
Related Posts