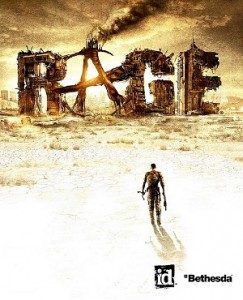 Last week we gave away five copies of Warhammer 40,000: Space Marine. Now dotTech and IntKeys, a Swiss-based online retailer of video games that sells games at highly discounted prices, are back; this time we are giving away five copies of RAGE (PC version) for free! (Read dotTech's review of RAGE to learn more about the game.)
About IntKeysIntKeys is a Switzerland-based company that sells computer video games online at highly discounted prices, e.g. they are selling Battlefield 3for $35.99 [regular price is $59.99]. You may be wondering how they do this. It works like this. First and foremost you purchase legitimate copies of games from them, but they only provide you with the relevant CD key for the game as opposed to shipping you the game box and actual CD. This cuts down on costs. Secondly, and more importantly, IntKeys utilizes the different region prices to their advantage. You may or may not know this, but different regions in the world have different pricing for games. For example, a game in the USA may cost $59.99 but the exact same game may cost $29.99 in Russia. Both are legitimate copies; the different prices result from price discrimination practiced by game producers to earn higher profits. IntKeys buys games from regions in which they cost less and sells them at a discounted price online. So, sticking with the example we already have, IntKeys may buy the game from Russia for $29.99 then sell it online for $39.99. They earn $10 on the sale and customers save $20 off retail price. A win-win, no?

Visit IntKeys.com if you are interested to learn more. If you end up purchasing, be sure to use the coupon code a45dottech4 for an additional 5% off.
If you want a chance to win one of the five copies of RAGE first you need to read – and agree to – the rules of this giveaway:
We are giving away Steampowered copies of RAGE. So you must have a Steam account to take part in this giveaway and you must make sure your computer can run Steam. If you don't have a Steam account already, you can easily make one. Steam accounts are free.

The RAGE copies we are giving out are region locked to Russia. However, the region lock is for activation only. After activation, the game is region-lock free. Therefore, this giveaway is open to

everyone

. RAGE is in English (it supports Russian, Czech, and Polish, too, for those of you that speak those languages) and I will provide directions to the winners on how they can activate RAGE using a free Russian VPN from anywhere in the world. Once you activate RAGE using a Russian VPN (it will take less than 10 minutes), you can play the game normally from anywhere in the world without a need for any VPN. If you are not willing to go through this process, then don't enter this giveaway because you will just waste the CD key.

RAGE requires a semi-powerful computer to run on. By entering this giveaway, you agree that your computer meets the following requirements:
Minimum
Intel Core 2 Duo or Equivalent AMD CPU
2 GB RAM
GeForce 8800, Radeon HD 4200 or equivalent GPU
Windows XP SP3, Windows Vista, Windows 7 OS
25 GB Hard Drive space
Steam account
Recommended
Intel Core 2 Quad or Equivalent AMD CPU
4 GB RAM
GeForce 9800 GTX, Radeon HD 5550 or better GPU
Windows XP (64-bit) SP2 fully patched, Windows Vista (64-bit), Windows 7 (64-bit) OS
25 GB Hard Drive space
Steam account
Modding Tools (id Studio) require 64-bit OS.
RAGE is rated M, for Mature. By entering this giveaway you agree that you are legally old enough to play this game in the country/region you live in. For the United States you must be 17 years or older. dotTech is not responsible if you lie about your age.
By entering this giveaway you are giving dotTech permission to contact you via e-mail. We will only use your e-mail adress to deliver the CD key for RAGE to you, if you win. We won't spam or sell your e-mail address.
Everyone may enter this giveaway only once and win only one copy of RAGE. Anyone trying to enter more than once and/or trying to win more than one copy will be 1) disqualified and 2) be hunted down like a dog by my squad of monkey ninja warriors.
Now that you have read and agreed to the above rules, do the following:
Post a comment below answering the following questions:
What is the next video game you are looking forward to? This can be a game that is already out or will be released in the future.
Does IntKeys have a price matching guarantee? If yes, then please explain. (Hint: Visit IntKey's homepage and look on the right.)
Name your favorite technology company. dotTech doesn't count.
If you do not post a comment below and answer all three questions, you will be disqualified from this giveaway.
When posting a comment, please make sure you enter an e-mail that is 100% valid and an e-mail you will check because the licenses will be distributed via e-mail by me. However, please don't post your e-mail in your comment! You should never post your e-mail on a public forum. Just enter the e-mail you want to be contacted at in the "E-mail" field when writing your comment – I will be able to get your e-mail from there. Or if you are a registered dotTechie, just post a comment while you are logged in and I will be able to find your e-mail.
If you are a winner I will send you a verification e-mail to confirm your e-mail address is valid. You will need to reply to that e-mail after which I will send you your CD key. You must reply to the verification e-mail to get your free copy of RAGE. If you do not reply to the verification e-mail within 48-hours, a different winner will be picked in your place.
This giveaway is open until Sunday October 16, 2011 11:59 PM Pacific Standard Time. The five winners will be picked after the entry window has closed. Good luck to everyone!
Related Posts