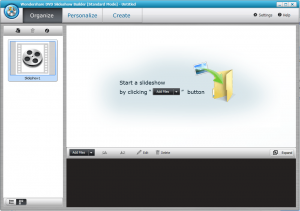 Note: This giveaway was originally posted about in Nov-11. That particular giveaway has ended and a new giveaway of the same program is now live. Sorry to anyone that receives double notifications!
Software Description
The following is a description of Wondershare DVD Slideshow Builder Standard, as per the developer:
Create and Share a Photo Movie Masterpiece

Want to show off your latest vacation without putting everyone to sleep? DVD Slideshow Builder Standard lets you combine your photos and sound to:

Breathe new life into vacation, wedding, graduation and other albums
Harness the creative power of 210+ custom slide templates and editing tools
Premier and share your shows on YouTube, Facebook, iPhone and more.

Why Choose DVD Slideshow Builder

Looking for an easy yet impressive way to burn your photos to DVD or share photos online? With Wondershare DVD Slideshow Builder Standard, literally drop-in your favorite photos and sound, add built-in cinematic effects with a click and instantly create a compelling photo slideshow complete with title menu, soundtrack and even special effects.

Enhance Each Photo With Custom Effects

Touch up photos your way. A built-in editor lets you:

Add filters like negative and black and white, adjust brightness/contrast, remove red-eye and much more
Drag-and drop-text captions, clipart and audio
Add special transition effects like wipes and fades
Choose from an array of Intro/Credit templates to create a movie feel

Create a Photo Slideshow as Easy as 1-2-3

1-2-3 means a streamlined workspace that lets you:

Drag-and-drop all your image and audio files
Click to edit, add templates, filters, etc.
View,edit and add to your show

Share Instantly Anywhere

Share your photo movies on social medias like YouTube & Facebook–directly upload to YouTube
One-click burns your show to DVD complete withDVD menus so you can control the action on TV
Enjoy photo movies on portable devices anywhere, such as iPhone, iPod, PSP…
Export in HD format to enjoy the highest picture quality
The following are all the input/output formats supported by Wondershare DVD Slideshow Builder Standard, as per the developer: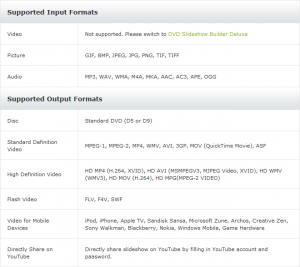 dotTech Advice
Taking a quick look at it, I can best describe Wondershare DVD Slideshow Builder Standard as a semi-enhanced version of Windows Live Movie Maker in the body of old Windows Movie Maker. I say semi-enhanced because of the features it does have (effects, style, photo editing, outputting to many different video formats, etc.) it does better than Windows Live Movie Maker. However, the issue is Wondershare DVD Slideshow Builder Standard is the limited-features edition; if you want all the features you need to pony up for Wondershare DVD Slideshow Builder Deluxe (US$59.95). The most notable features missing in Wondershare DVD Slideshow Builder Standard are:
The ability to add slide transitions;
Modify photo durations;
Pan/zoom;
And add videos into slideshow.
Honestly with the features that it lacks, I am not sure I would personally use Wondershare DVD Slideshow Builder Standard over Windows Live Movie Maker if I ever had to make a slideshow out of photos/videos. The lack of transitions, no control over photo durations, and the inability to add videos kills the program for me. However, if you recognize these limitations and want to give Wondershare DVD Slideshow Builder Standard a try, by all means do so. Since it is free the only things you will waste are (hopefully) time, bandwidth, and electricity.
Freebie Details
Wondershare DVD Slideshow Builder Standard is being given away in a promotion by BitsDuJour. The promotion is live for 24-hours. However, as long as you grab your registration code and download the installer, you can install/reinstall at any time in the future; but take note these licenses are per computer — you can only reinstall on the same computer you initially install it on. If you want this program for more than one computer, grab multiple licenses.
To get Wondershare DVD Slideshow Builder Standard for free, do the following:
Version being given out for free: v6.1.6
Free updates: Yes
Free technical support: Yes
Supported OS: Windows XP/Vista/Win7
Download size: 36.7 MB

Check the inbox of the e-mail address you registered with. Look for an e-mail from Wondershare Mailer mailer@wondershare.com with subject of Bitsdujour activities keycode. In the e-mail you will find your registration details — copy the code and remember the e-mail address: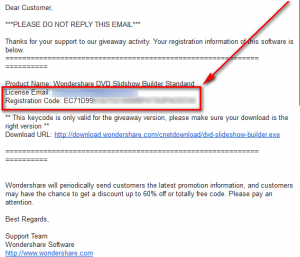 Download and install Wondershare DVD Slideshow Builder Standard.
After installation, run Wondershare DVD Slideshow Builder Standard and register it using the registration details you received via e-mail:
If you have trouble getting Wondershare DVD Slideshow Builder Standard for free, post below and other dotTechies or I will try to help.
Related Posts