Software Description
The following is a description of Abelssoft JetDrive 5 Professional, as per the developer:
JetDrive – Feature Overview

JetDrive defragments your hard drive. It does a far better job than Windows Defrag and — depending upon the condition of your hard drive — can result in a 20% gain in performance.

Automatic or Manual

JetDrive defragments your hard drives manually or with an automatic process called AutoJet. Defragmentation couldn't be easier.

Defragments your Registry

JetDrive defragments all hard drives, single files and even the Windows Registry with a special registry defragmentation algorithm.

Checks your Drives for Errors

JetDrive recognizes errors in your hard drives, and can even detect and fix errors automatically if you prefer.

Detailed Reports

JetDrive creates detailed reports of your hard drive defragmentastion process. It displays the current state in an easy to read 3D view and summarizes all operations.
dotTech Advice
JetDrive 5 Professional has two main features: Defragging hard drives (users are allowed to select specific partitions, if they don't want to defrag them all) and defragging the registry. In addition to those main features it has four supplementary features: A scheduler for automating disk defrags, checking disks for errors, cleaning temporary files, and defragging "systemfiles".
What impressed me about JetDrive is its flexibility for different types of users. JetDrive allows novices users to let JetDrive select what defragging settings to use and how best to optimize the process; at the same time, it allows advanced users – who want more control – the ability to customize the way defragging occur.
As a defragger JetDrive looks pretty good. It is able to do multiple different types of disk optimizations starting from a basic defrag to more advanced procedures such as sorting files by last date of access, location, or last change. Furthermore it has a scheduler allowing users to schedule defrags to happen at a specific time, whenever system is idle, or at Windows boot. And it has the ability to automatically shutdown computer after defragging has finished, which is very useful for users that plan on leaving defrags overnight. The one thing that irked me, however, was the fact that JetDrive dives right into defragmentation once you select all settings and tell it to start. It doesn't provide any sort of analysis, prior to actual defragmentation, telling users "Your disk is fragmented by XXX and we will defrag XXX." I find this to be very annoying because without such an analysis it is hard to judge if my drives actually need to be defragged and how long the defrag will take.
The registry defragger is a bit more basic than the disk defragger, not having very many enhanced options. It does, however, scan the registry to look for hives and provides a percentage for each hive which presumably means how fragmented that particular hive is. I say "presumably" because the program doesn't explicitly state what this percentage is for. I am not much of a registry defrag fan so I avoided this feature outside of conducting the scan; aside from the initial scan, I can't say more about it because I didn't test it.
Similar to the lack-of-analyis-prior-to-defrag con I discussed above, the TempCleaner and Defragment Systemfiles features don't provide any sort of analysis prior to cleaning temp files/defragging system files nor do they tell users exactly what files they are cleaning/defragging. (Which temp files are being cleaned? I have no idea!) Soon as you hit the buttons for TempCleaner and Defragment Systemfiles the processes start happening. We are just supposed to go on blind faith that JetDrive 5 Pro is cleaning the right temp files and defragging the right systemfiles — it doesn't tell us what it is doing. Very annoying.
Aside from that, the only other major thing I noticed in my quick review is the error checking features of JetDrive 5 Pro appear to be nothing more than Window's native checkdisk (chkdsk) function wrapped in a nice GUI. Go figure.
As a defragger JetDrive earns points in my book. It is easy for novices, who can let JetDrive decide what to do, while still providing advanced users the flexibility of customizing their service. If you are looking for a good defragger, JetDrive is a viable candidate. Personally, though, I find it very annoying JetDrive does not provide users with analysis results, showing users what needs to be dragged and what doesn't; I want to be able to know what JetDrive will do before it does it. For that reason I am sticking to my all-time defragging favorite: Auslogics Disk Defrag. Not only is Auslogics Disk Defrag freeware, but it is one of the best defraggers I have ever used: Quick, easy to use, and excellent performance. Auslogics doesn't defrag the registry (it only defrags hard drives) but honestly defragging the registry is something most users don't want to mess with anyway.
Lastly, before we get to the Freebie Details, take note JetDrive comes in two editions — Professional and Ultimate. The following chart depicts the differences between the two:

Click on the chart above to view it in full size.
(I am not sure what the "Test" is in the chart above.)
Freebie Details
Abelssoft JetDrive 5 Professional is being given away in a promotion run by PC Praxis. There is no information on if it is time limited offer nor is there information on if you can install/reinstall at a later date. My guess, however, is this is a time limited offer, hence why I marked this as a limited time offer in the title; I just don't know how long this will be available. So grab this while you can, if you want it. The program is in English even though this is a German promotion.
To get Abelssoft JetDrive 5 Professional for free, do the following:
Version begin given out for free: v5 Professional
Free updates and technical support: Unknown
Supported OS: Windows XP/Vista/Win7
Download size: 28.2 MB
Download and install JetDrive 5 Pro.
After installation run JetDrive 5 Pro.
When you run JetDrive 5 Pro, you should see a registration window. Enter your e-mail address and the Get free unlock code now >> button: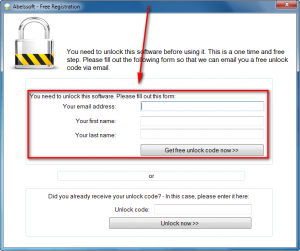 You can also enter your first and last names but you are not required to do so.
Once you have entered your e-mail address and hit the Get free unlock code now >> button, a message will pop up; close it by clicking OK: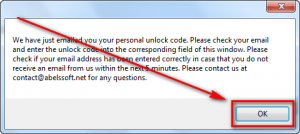 Once you close the pop up message, the unlock code should automatically appear in the Unlock code field at the bottom of the registration window: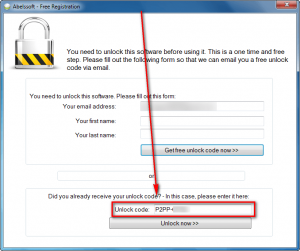 If the unlock code appears for you automatically, allow you have to do is click Unlock now >> and you are done. If, however, the unlock code does not appear for you automatically, you need to grab it from your e-mail. So open the inbox of the e-mail address you entered. Look for an e-mail from Abelssoft software@abelssoft.de with subject of Abelssoft: Your unlock code. The e-mail will contain your unlock code: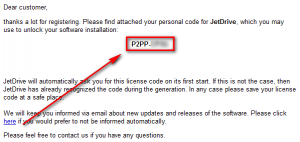 Copy the unlock code from the e-mail and paste it into the Unlock code field in the registration window; then hit the Unlock now >> button and you are done.
If you have trouble getting Abelssoft JetDrive 5 Professional for free, post below and other dotTechies or I will try to help.
Related Posts