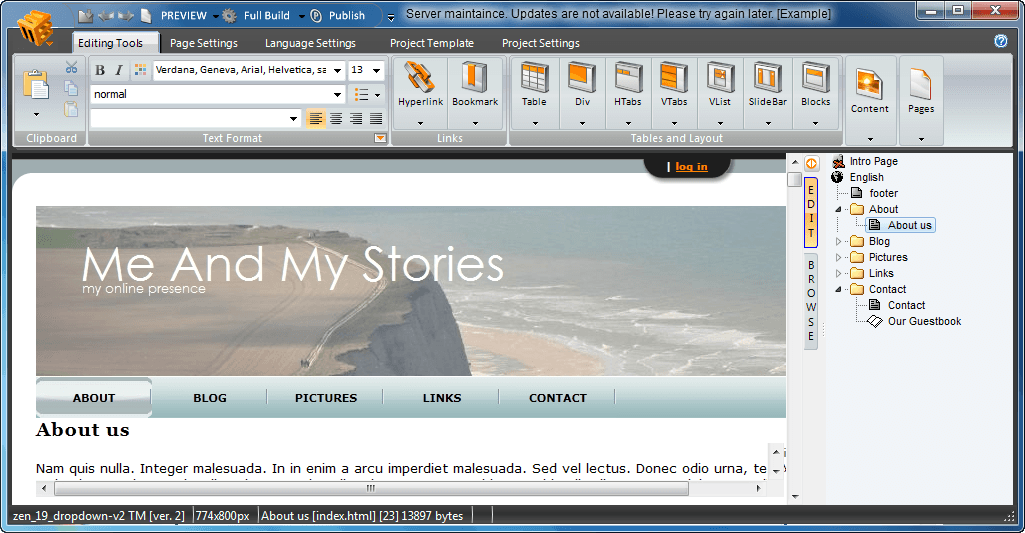 Software Description
The following is a description of EZGenerator, as per the developer:
What is EZGenerator.

EZGenerator is a combination offline Website builder and online content management system. Create the structure of your website offline, add pages, blogs and other features then upload it and continue to edit 'live' content online.

Easily create a website without installing any other software on your PC or server, EZGenerator does all the hard work for you and set-up everything you need to have online.

Change the look of your website?

Simply select one of the many (literally thousands) of ready made templates or import a template from Artisteer into EzGenerator. You can even tweak most templates to your exact design needs.

Web creation without limits.

There is no limitation on the number of website projects in EZGenerator, and we allow you to create as many website pages in each project as you need.

Our program supports you in generating the site you imagined, without limiting your creativity.

You can use the web hosting of your choice (free or payable) to publish your EZGenerator created website.

Publish your website with build-in FTP

EZGenerator is ready to communicate with and connect to all major web-servers. Once your site is complete, a single click and your website is published to your own (FTP or SFTP) account with EZGenerators built-in ftp client. You can also publish your site to a local folder on your PC for testing.

Do you need HTML experience?

EZGenerator is first and foremost a WYSIWYG web-editor platform. If you can use a word-processor you will be right at home creating websites in EZGenerator. There's no need for graphical skills or HTML knowledge.

You will be able to add modern features such as BLOGs, Calendars, e-Commerce, Google services, Guestbook, Slideshows, Counters and all to a commercial/professional standard.

Of course if you are HTML/Java/php savvy then EZGenerator lets you dive in the deep and completely customize your pages using any of these development languages

Advanced Features

EzGenerator makes it easy to add impressive interactive features to your website based on the JQUERY JavaScript library.

You will discover Tabbed tables, Accordeons, Floating logins and much more. EZGenerator will always be up to date with the latest features and content enhancements.
dotTech Advice
I took a quick look at EZGenerator and in of itself it isn't a bad program. However, there is no reason to use it.
As the name indicates, EZGenerator isn't for professional web designers — it is for amateurs. I mean, sure professionals can use it if they want but its not really for them. If it were early 2000s, EZGenerator may be a useful tool for amateurs. However, we are living 2012. These same amateurs can create fully functional, aesthetically pleasing websites in one weekend by using free, open source content management systems/blogging platforms like WordPress, Joomla, or Drupal. (dotTech runs on WordPress.) In fact in some situations (such as WordPress) you don't even have to pay for web hosting if you are OK with using a subdomain, so you can have a website completely free of charge. WordPress, Joomla, Drupal are all extremely easy to use and have great community support in the form of free templates, plugins, and general help; you literally don't even need to know one line of code to create a website using any of the three (although it would help).
If you are looking to create a website, don't bother with EZGenerator or any similar program. Go use a free, open source CMS and you will have an awesome website (which can be a blog, eCommerce, business website, etc.) up in no time. I highly recommend WordPress.
Freebie Details
EZGenerator is being given away in a 24-hours promotion by Giveaway of the Day. The promotion is live until 23:59 Pacific Standard Time Tuesday March 13, 2012. You must download, install, and register within these 24-hours — you won't be able to install/register later.
To get EZGenerator for free, do the following:
Version being given out for free: v4.0.0.29

Free updates: No
Free technical support: No
Supported OS: Windows XP/Vista/Win7

Download size: 123 MB
Giveaway limitation: This is free for non-commercial use only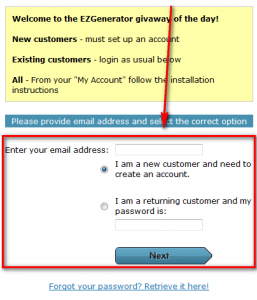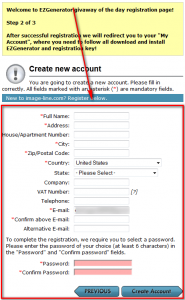 Once you hit Create Account at the last page, you will be brought to your account page: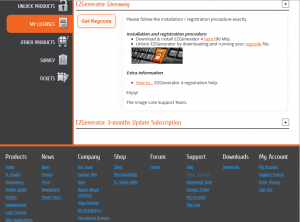 Close this page — you don't need it.
Visit the license code page and accept the developer's terms (you may have to login with the e-mail address and password you just registered with):

After you accept the developer's terms, you will be brought back to your account page. Close it again — you don't need it.
Now visit the license code page again and you should be prompted to download FLRegKey.reg — download it and keep it safe, you will need it soon. (You may have to login again before you get the download.)
Download the giveaway installer ZIP file.
Extract the ZIP file and run Setup.exe. Make sure you have a valid Internet connection at the time and wait while the installer checks to make sure the giveaway is still live. Once the installer confirms the giveaway is still live, the installation of EZGenerator will launch: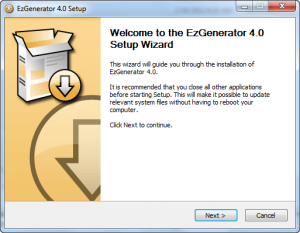 Install EZGenerator like you would install any normal program.
After installation of EZGenerator finishes, the Giveaway of the Day installer will popup again — click Close (unless you want to install an optional third-party program Software Informer, in which case click Software Informer):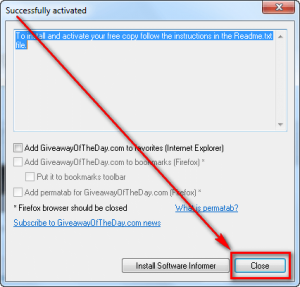 Now close EZGenerator if you have it open.
Find where you downloaded FLRegKey.reg and double left-click on it. You will be prompted to add it to the registry — do so:


That's it. Run EZGenerator and it will be fully registered. You can make sure it is fully registered by clicking the orange square in the top-left corner when you get the main program window, going to About EZGEnerator, and making sure it doesn't say Trial. Rather, it should say Registered to: with no name listed. Enjoy!
If you have trouble getting EZGenerator for free, post below and other dotTechies or I will try to help.
Related Posts