Back in November I posted about Republic Wireless, a new cell phone service provider in the USA. In the article I mentioned Republic Wireless was launching November 8, but aside from that we didn't have many more details. Republic Wireless has launched. We have more details. Let's talk. (Pun intended.)
The elephants in the room
Two of the biggest questions regarding Republic Wireless were (are)
Does Republic Wireless' $19/month for unlimited data, talk, and text require a contractual commitment?
Is "unlimited data, talk, and text" truly unlimited?
The answer to both questions is a yes — with a catch.
No Contracts
At this time Republic Wireless offers one plan and one plan only: $19/month for unlimited data, talk, and text. This plan is month-to-month — it requires no long-term contracts, and can be cancelled at any time. However, there is a catch.

Republic Wireless requires customers to buy a special handset in order to use their service. Because of this requirement, the first month of service with Republic Wireless costs $199. This $199 fee includes the purchase of a phone (you own it) and first month of service. For those worried about the huge up-front cost, Republic Wireless offers a "no questions asked" 30-day money back guarantee. So you should be able to test out their service for 30 days without committing to anything. I put emphasis on should because, well, as with all business ventures, there is a risk of bad customer service and/or the company not being around long enough to reclaim your money.
"Unlimited" Data, Talk, And Text
Republic Wireless is able to offer a low cost monthly plan primarily due to the fact that network traffic (data, talk, and text) is offloaded onto WiFi networks whenever possible. In other words, with Republic Wireless you rely on WiFi networks to use your phone. In that sense Republic Wireless customers get unlimited data, talk, and text.
That doesn't mean you can only use Republic Wireless service over WiFi. If you are not near/on a WiFi network, you can

use the cellular network instead. (Republic Wireless piggybacks off Sprint.) However, cellular network usage is limited to 550 minutes, 150 outgoing texts, and 300 MB of data per month.
Now it is worth noting Republic Wireless emphasizes that the cellular limit isn't a hard cap. You won't get charged overage fees and your service won't immediately be terminated if you surpass the cellular cap. If you go over the cellular limit, Republic Wireless will "remind [you] of the guidelines and to what extent you've crossed the fair use threshold". Then they will provide you with "tips for reducing your cellular footprint and plenty of opportunity to get back on track." Finally, they will tell you "how much time you have to correct your problem". After that, if you still continue to use more cellular than the the limits mentioned above, they will kick you off their service. So, it goes without saying, if you plan on getting Republic Wireless, be sure you have regular WiFi access.
[Note: Roaming within the USA is free. International roaming is not supported, but presumably you can use WiFi networks while abroad. It is unclear if talk and text is unlimited and free to USA numbers only or if international numbers are supported too. It probably is only USA numbers. Also, there is no information if "texts" means just text messages or includes picture messages.]
Special Handset
Because of Republic Wireless's unique service (offloading onto WiFi most of the time, using Sprint when not), customers cannot bring their own handset to use on Republic Wireless. Rather, as mentioned above, one has to purchase a special handset from them (that is what the $199 first month charge is for — it is unclear if you can avoid this charge by purchasing a used Republic Wireless-compatible handset from a third party).
At this time Republic Wireless only offers one handset; it is the LG Optimus with
Hybrid Calling. Essentially, it is an LG Optimus One with custom software ("Hybrid Calling") that allows seamless movement between WiFi and cellular networks. The emphasis goes on seamless; aside from turning WiFi on/off (if applicable), you don't have to do anything to move between WiFi and cellular — the "Hybrid Calling" technology built into the LG Optimus manages that for you.
For those that don't know, LG Optimus One is an entry-level Android device. It debuted in October 2010 and has variants available on the big four cell phone service providers in the USA. The Optimus One has a 3.5 inch screen, 600 mhz processor, 512 MB RAM, very little on-board storage space but comes with 2 GB microSD with ability to go upto 32 GB (it is unclear if the LG Optimus with Hybrid Calling will come with a microSD), and 3.15 MP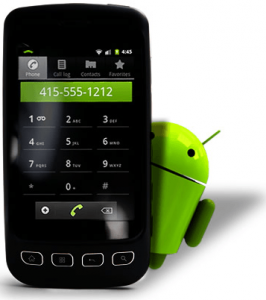 camera with autofocus but no flash. Accelerometer, proximity, and compass are on board but no light sensor.
The Optimus One comes with Froyo and is upgradeable to Gingerbread. It is unclear what version of Android the LG Optimus with Hybrid Calling will have. What is fairly obvious, however, is it probably won't be able to run the custom ROMs available for the Optimus One; but specialized custom ROMs may be developed in the future for the LG Optimus with Hybrid Calling. (It depends on if the developer community takes a liking to this handset or not.)
Being entry-level and over a year old, the going price for the Optimus One (and its USA variants) is $100-$150, brand new. If you subtract the $19 cost of service, you are paying $180 for an Optimus One from Republic Wireless. Presumably that extra surcharge is because of the special "Hybrid Calling" firmware Republic Wireless had to develop.
As already mentioned, at this time Republic Wireless offers only one handset and you cannot bring your own. So if you want to use Republic Wireless, get cozy with entry-level Android. For what it is worth, the Optimus One has been hailed as an excellent entry-level device. It should be noted, however, that praise was last year — technology moves fast in fourteen months.
How To Sign Up
Erm. You can't. Not yet. You see Republic Wireless launched in November, yes. However, it is in closed Beta right now. That means you must be invited to join. Well, technically, it was open Beta back in November when it launched. (Aka anyone could sign up — no invitation needed.) However, the response was so overwhelming, Republic Wireless servers crashed and burned, figuratively speaking. They couldn't handle the load. Now, presumably to improve quality of service and manage demand, Republic Wireless has limited the number of people who can join Beta. Currently that cap has been reached. If you are interested in joining Republic Wireless you can sign up for an emailing list (link given at the end of this article); that way you will be e-mailed when either Beta is opened to new entrants or Republic Wireless comes out of Beta and goes public.
Conclusion
It was a forgone conclusion there would be strings attached to Republic Wireless. There is no such thing as a free lunch; and there is no such thing as a catch-free cell phone service provider. However, the strings attached to Republic Wireless are not significant enough to offset the fact that they charge $19/month for "unlimited" service with no contracts. Really the only unknown factor now is level of service. Only time will tell if they can maintain a satisfactory level of service; and if they do, Republic Wireless will be big. Very big.
Hit up the links below to read up more about Republic Wireless and/or sign up for the Beta waiting list:
Related Posts