Software Description
The following is a description of Videomizer, as per the developer:
Videomizer Highlights
Automatic object recognition: manipulates only those frame parts, which help optimize the overall impression!
Fully automatic re-adjustment of tonality, re-sharpening and contrast optimization!
Touching-up of images through higher definition and re-sharpening of matt colours!
Fully automatic system for hue control and saturation, white balance and bright/dark correction.
Elimination of fog and other weather influences and undesired colour casts.
Adjustment options for resolution, bit rate and frame rate as well as audio attributes (channels, bit rate, sample rate)
Picture size optimization to eliminate black bars, among others Stretch and Pan & Scan
High-quality scaling filters, among them Lanczos and the extremely efficient ODU
Video cut and real time preview (dual view for direct comparison)
Supported input formats: DVD-Video, AVI, WMV, MP4, 3GP, MPG, TS and more
Supported output formats: AVI, MPG, MP4 and WMV, among others with profiles for iPod, iPad, Android, PlayStation Portable and other devices.
Fully automatic batch mode for automated manipulation of several videos in a row!
Additional option for manual optimization!
The HDR-simulator helps to create amazingly HDR-similar modifications. HDR is known from photography and serves for creating high dynamic range images. You require, however, three images of the same subject with three different exposures. The VideoMizer creates a similar effect for your videos although it has to do with just one image per unit of time.
The scaling optimization, another distinctive feature of the program, guarantees that your videos are most efficiently shown on a certain display. If for example you have a portable media player like the Apple iPod, your videos are automatically adjusted to its display attributes for full screen mode – without disturbing black bars!
dotTech Advice
Videomizer is a software intended to "optimize" home videos, giving them a more "professional" look. Although it is intended for videos, it also does photos; and it has a built-in video format converter, too. Seeing as I don't have any home videos/movies… I can't really evaluate the software and provide any useful advice. (Sorry!) I ask that dotTechies that do test this software out share with the rest of us their experience in the comments below.
Freebie Details
Videomizer is being given away in a promotion run by PC-Welt. There is no information on if it is time limited or if you can install/reinstall at a later date if you wish. So grab this while you can, if you want it. The program is in English even though this is a German promotion.
To get Videomizer for free, do the following:
Version being given out for free: v1.2.11.0712
Free updates and technical support: Unknown — probably not
Supported OS: Windows XP/Vista/Win7/Win8
Download size: 29.6 MB
Download and install Videomizer.
At the end of the installation a window will popup asking you to submit your e-mail address to get the registration key: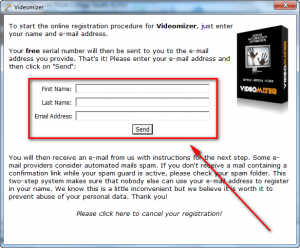 You are welcome to end your first name and last name, but you are only required to enter an e-mail address. Hit Send after you have entered an e-mail address.
After you hit Send, if you have done it properly, you will be shown a success message: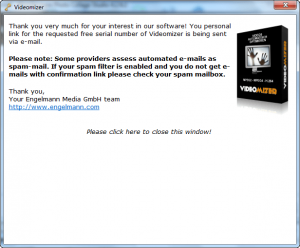 Close this window.
Check the inbox of the e-mail address you registered with. Look for an e-mail from Engelmann Media GmbH respond@engelmann.com with subject of Videomizer. In the e-mail there is a link you need to follow: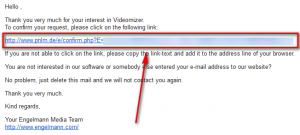 Click on the link or copy + paste it in your web browser.
After clicking on the link you should be shown another success message: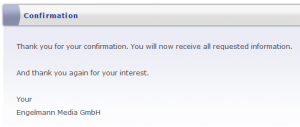 Close this tab/window.
Again check the inbox of the e-mail address you entered. Look for an e-mail from Engelmann Media GmbH respond@engelmann.com with subject of Serial number Videomizer. In the e-mail you will find your serial key for this freebie:

Copy the serial key.
Run Videomizer and register it using the serial key you just received: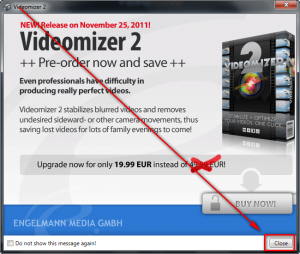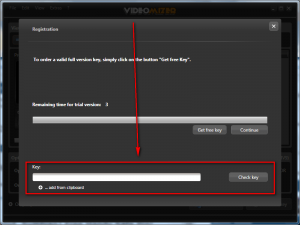 If you have trouble getting Videomizer for free, post below and other dotTechies or I will try to help.
Related Posts