Software Description
The following is a description of Android Converter, as per the developer:
Multimedia for Android – originally easy!

Convert music, videos and photos for your Android-device: no matter whether mobile-, smart phone or any other device based on Google's 'Android' operating system!

Music makes life easier…
With Android Converter you convert nearly any audio- and video material to songs for your Android-companion: from audio-CDs, from MP3-, AAC-, WAV- and other files and from video sound tracks (from DVD-videos, single chapters or single video files like AVI, DivX, WMV, MP4, MKV etc.).

Time flies with a good movie…
Convert nearly any video material to Android-compatible clips, no matter how long the movie takes, no matter from which source. Android Converter supports conversion of whole DVD-videos, single DVD-chapters and single video files of all important formats, among them AVI, DivX, Xvid, Nero Digital, WMV and Internet-Flash videos (flv).

Take your dears for a journey…
Or surprise your fellows with your personal photos. Android Converter does not restrict its skills to music and videos; it also prepares your photo collection for the big transport. The application supports conversion of the most common image formats like JPG, JPEG, GIF, PNG and BMP to Android-compatible photos. Even better: Android Converter improves the visual quality and adjusts the photos to the display.
dotTech Advice
Android Converter is a video/audio/image converter for Windows that converts files intended for Android devices; it also is able to search and download videos from Youtube, ClipFish, DailyMotion, Vimeo, MyVideo, and SevenLoad.
I did not test the conversation quality or speed of Android Converter. Why? Because for an Android converter, the most important aspect of the program is the supported devices. If Android Converter supports a good number of devices, then it is worth looking into further. If it doesn't, then it isn't. Android Converter's support for devices is poor and aged.
Android Converter supports 34 devices and has one "general" output profile. The issue is a) there are many more than 34 Android devices and b) these 34 devices are 12+ months old — Android Converter does not support any of the newer devices. Now, of course, one could pick the general output profile and customize the output settings to fit one's specific Android devices if it isn't supported by Android Converter. However, not only are the customizations limited (e.g. resolution is capped at 800×480 — some devices support 1080p videos now) but if you wanted to pick a general output profile and customize it to fit your needs why would you get program specifically intended for conversions for Android devices? Any video converter can do that.
[Note: When discussing support for devices I am talking about Android Converter's video converting features. The audio and image converters don't support any specific devices — they just do general conversions.]
My advice on Android Converter: Save yourself the time and effort. This program isn't worth the download. If Android Converter supported a wide array of Android devices then it could be considered. However, as it stands, it doesn't. The list of supported devices is thing and aged. You are better off downloading a general video converter – such as Format Factory (which converts videos, audios, and photos), Freemake Video Converter, iWisoft Video Converter, HandBrake, Wondershare family of converters (not free but available via freebies often or at highly discounted prices), etc. – that will serve your Windows and Android converting needs.
Freebie Details
Android Converter is being given away in a promotion run by CHIP. There is no information on if it is time limited or if you can install/reinstall at a later date if you wish. So grab this while you can, if you want it. The program is in English even though this is a German promotion.
To get Android Converter for free, do the following:
Version being given out for free: v1.11.0715
Free updates and technical support: Unknown — maybe
Supported OS: Windows XP/Vista/Win7
Download size: 22.6 MB

After the download finished, install Android Converter. Take special care to pick English as the language (assuming you don't want the program in German or French):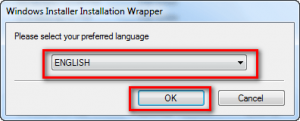 At the end of the installation a window will popup asking you to submit your e-mail address to get the registration key: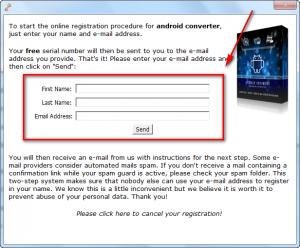 You are welcome to end your first name and last name, but you are only required to enter an e-mail address. Hit Send after you have entered an e-mail address.
After you hit Send, if you have done it properly, you will be shown a success message: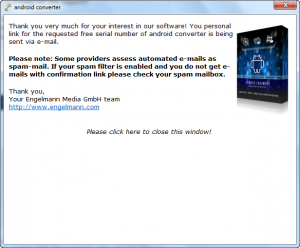 Close this window.
Check the inbox of the e-mail address you registered with. Look for an e-mail from Engelmann Media GmbH respond@engelmann.com with subject of android converter. In the e-mail there is a link you need to follow: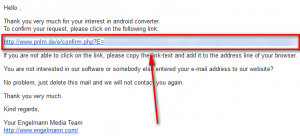 Click on the link or copy + paste it in your web browser.
After clicking on the link you should be shown another success message: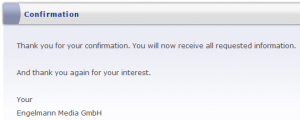 Close this tab/window.
Again check the inbox of the e-mail address you entered. Look for an e-mail from Engelmann Media GmbH respond@engelmann.com with subject of Serial number android converter. In the e-mail you will find your serial key for this freebie:

Copy the serial key.
Run Android Converter and register it using the serial key you just received: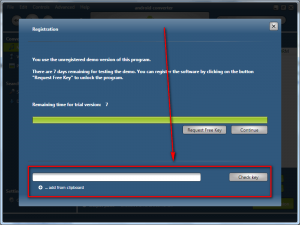 If you have trouble getting Android Converter for free, post below and other dotTechies or I will try to help.
Related Posts