Software Description
The following is a description of mirabyte FrontFace, as per the developer:
FrontFace is a new, innovative user interface (UI) extension for the Microsoft Windows operating system. While Windows was made for the traditional Desktop PC, new device types such as Netbooks, Tablet PCs or All-in-One Home PCs demand a different user interface. FrontFace provides you with a visually attractive and easy to use interface without losing compatibility to the huge eco system of existing Windows applications.

FrontFace is perfect for quickly accessing applications (including Web apps), surfing the Web and for keeping up-to-date with status information from the Social Web (RSS, Twitter, Facebook, etc.) on Netbooks and Tablets.

Features of FrontFace:

Optimized for small screens (Netbooks) and touch screen devices (e.g. Tablet PCs)
FrontFace was designed to give the actual applications (e.g. Web Browser) as much space as possible on the screen. This makes FrontFace perfect for devices with small screens (e.g. Netbooks). The advanced touch screen features bring a great user experience on Tablet PC's and All-in-One PC's with touch screens. Of course you can also operate the software using the mouse / touchpad.

Start page with configurable widgets
The start page of FrontFace shows your regular Windows wallpaper and allows you to place custom widgets. These widgets are currently available: Big Clock, Analog Clock, Digital Clock, Calendar, Recently Used Apps, Web Search, Bing News, Wikipedia, Bing Translator, Notifications. More widgets will be available shortly for free! Additionally you can use any Windows 7 widget in case FrontFace is installed on a Windows 7 system.

Support for all "normal" Windows applications, Multitasking and Easy app switching
FrontFace not only supports Web apps and custom FrontFace applications – it also supports any "normal" Windows application (e.g. Microsoft Office). You can use FrontFace to switch between running applications either by using the forward and backward buttons or you can access a list of currently running applications.

Application launcher
FrontFace makes launching applications absolutely easy! Just click on the appropriate glass button in the app starter and your app is ready to be used. FrontFace supports built-in applications, Web apps (e.g. Wikipedia, Google Mail, etc.) and of course all native Windows applications (e.g. MS Office).

Access to Windows Start Menu and Desktop Shortcuts
FrontFace provides an easier way to access the Windows start menu or desktop shortcuts. You do not have to poke around in tiny popup menus – FrontFace makes everything more accessible – a must-have on devices with small screen resolutions and on touch screens.

Web Applications
FrontFace has a special mode for Web applications (applications that completely run in the browser). By removing all parts of the browser's user interface, you get as much space as possible for the actual application and have a true "desktop application" look and feel.

FrontFace Apps
FrontFace comes with special applications exclusively made for FrontFace (e.g. RSS/Twitter Reader, E-Mail Checker, etc.) More FrontFace applications will be available soon for free for all FrontFace users!

Integrated Web Browser
FrontFace has its own, built-in Web browser application. It is compatible with the Internet Explorer bookmark manager and offers a special UI that is optimized for use on touch screen devices. Alternatively you can use any other Web browser as your default browser (Internet Explorer, Firefox, Google Chrome, Opera, etc.) if you prefer.

Device Status and Device Control
The system tray of FrontFace gives you information about the current status of your device's battery, Wi-Fi connectivity and volume control of the sound card. Support for other Windows tray icons will be available soon.

Windows Mode
While FrontFace allows you to run any Windows application inside FrontFace, there might still be some situations where you would like to use the normal Windows user interface instead. FrontFace comes with a feature called Windows mode. This mode allows you to "switch back" to the normal Windows UI and return to FrontFace again. The Windows mode gives you 100% compatibility to any Windows application!

Custom UI Skin and Colors
You can change the skin (design) of the FrontFace UI according to your personal preferences and to the design of your device. Choose from textures like brushed steel, carbon, wood, leather or colored glass to make your FrontFace more personal!

E-Mail Notification Application
No need to permanently check your e-mail inbox for new e-mails! Let FrontFace do this job for you. Once a new e-mail hits your inbox a notification is added to the FrontFace notification center.

RSS/Twitter Reader Application
Follow RSS feeds (e.g. on Facebook) or Twitter feeds. The RSS reader application routes all status updates directly to the notification center of FrontFace.

Notification Center
The notification center of FrontFace is the central hub where status updates from all over the Web are aggregated. Use helpful filters to find out what has happened during a certain period of time! Never miss any important information! Everything you need to know like e-mails, RSS feeds, tweets or social network status updates can be routed into the notification center!
dotTech Advice
FrontFace is an interesting program. It is basically a new interface for Windows, completely changing how you use it. FrontFace provides an interface that seems to belong on a touch device; and that isn't surprising because, even though FrontFace works on traditional Windows PCs, FrontFace is specifically marketed for (Windows) tablets and netbooks.
FrontFace is one of those programs which I cannot really give advice about it; you need to actually see it and use it to decide if you want to keep it. One thing I will say, however: FrontFace "Advanced Edition" is simply another name for a feature-limited version of FrontFace for Netbooks & Tablets. What feature is limited? No free updates. What does that mean? You don't have access to FrontFace Market and thus won't get any FrontFace apps that don't come with the software.
That said, my advice is watch the video below and if it pipes your interest, give FrontFace a try. Using FrontFace is the only way you can determine if it is for you or not. For what it is worth, in my opinion FrontFace does not belong on any traditional non-touch desktop, notebook, or netbook. I can see where it might be useful on touch tablets but if you are using a mouse and keyboard I find FrontFace to be limiting.
Freebie Details
mirabyte FrontFace Advanced Edition is being given away in a promotion by CHIP. There is no information if this promotion is time limited or not but my guess is it is time limited (probably 24-hours only), so grab this freebie while you can. Also, there is no information on if you can install/reinstall at a later date but the promotion gives you a personalized license code for mirabyte FrontFace Advanced Edition so my guess is you can install/reinstall whenever you want.
This is a German promotion and the registration process is in German. However, the program and installer are in English.
To get mirabyte FrontFace Advanced Edition for free, do the following:
Version being given out for free: v1.2.9.0
Free updates: No
Free technical support: Unknown
Supported OS: Windows XP/Vista/Win7
.NET Framework 4 is required and Internet Explorer 9 is recommended
Download size: 9 MB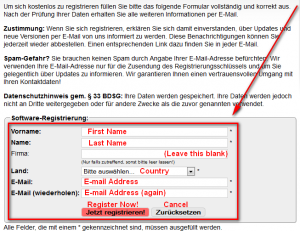 After you have filled out the form hit the Jetzt registrieren! button.
Note: By registering you are opting to receive e-mail newsletters from mirabyte. They allow you to unsubscribe at any time.
If you register properly, you will be shown the following page: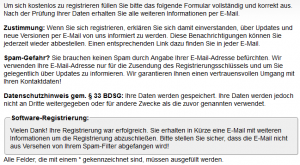 This page is just telling you to check your e-mail address. You can close this page.
Check the inbox of the e-mail address you registered with. Look for an e-mail from mirabyte Support support@mirabyte.com with subject of Ihre angeforderten Registrierungsdaten (mirabyte Software). In the e-mail is a link you need to follow: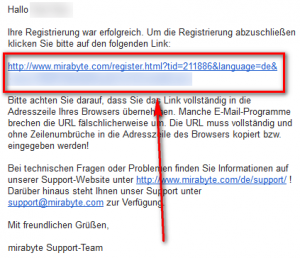 Click on the link or copy + paste it in your web browser.
When you follow the link your license key will be shown to you on-screen:
Copy the key — you will need it soon.



After the download finishes, install FrontFace.
After installation, run FrontFace and register it using the serial key you received earlier: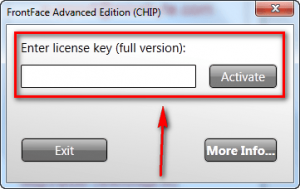 Take note there is no confirmation message of successful registration. However, you can double-check to see if it registered or not by going to Settings -> About/Updates: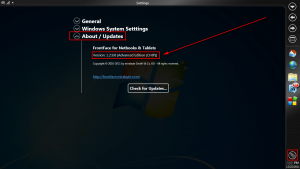 If you have trouble getting mirabyte FrontFace Advanced Edition for free, post below and other dotTechies or I will try to help.
Related Posts