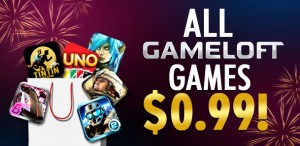 Missed out on Gameloft's Labor Day promotion? Gameloft is running a New Year's sale, selling all their games on Android Market for $0.99 until January 5, 2012. The key thing to note here is all Gameloft games that are available from Android Market are $0.99. Some games for Android are available via Gameloft's website only so they aren't on sale. Also, there are a few Gameloft games that are regularly sold for $0.99 so they obviously aren't on sale, either. So, then, exactly what games are on sale? The following:
Ashpalt HD
Ashpalt 6: Adrenaline HD
Backstab HD
Block Breaker 3 Unlimited HD
Modern Combat 2: Black Pegasus
N.O.V.A. 2 HD
Order & Chaos Online
9mm HD
UNO
The Adventures of Tintin HD
The key game missing from the above list is Modern Combat 3: Fallen Nation. Gameloft promises they will also put Modern Combat 3 on sale for $0.99 but it will be for 24-hours only on an unspecified date between now and January 5, 2012. They say follow their Twitter account to know when Modern Combat 3 is on sale. If I found out in time, I will be sure to post about it here on dotTech.
If you plan on jumping on this sale and grabbing some Gameloft games, make sure you have access to a WiFi connection. The games from Android Market themselves aren't that large but after install you need to download game packs for each game which are hundreds of MB. Similarly, be sure your device has enough space to store all those megabytes of data.
Hit up Android Market on your Android device or the link below to start purchasing:
Android Market Gameloft New Year's sale
Related Posts